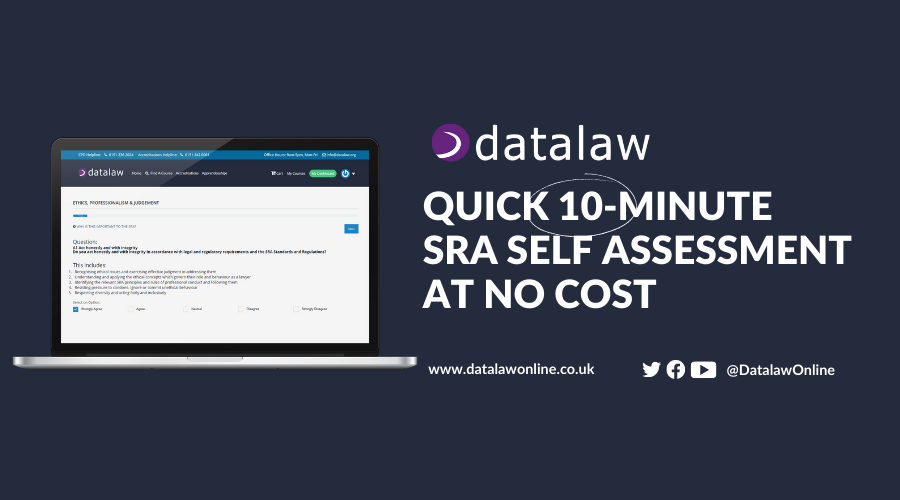 Datalaw is England and Wales No.1 Legal CPD Training. We are also government funded qualifications providers of Law apprenticeships and Paralegal apprenticeship, Children Law Accreditation, Legal Aid Supervisor Courses, SRA Management Stage 1 and SRA Management Stage 2. Along with being one of only two Police Station Rep Accreditation and Magistrates Court Qualification SRA approved accreditation providers in England and Wales.
We provide access to over 800 CPD courses in 42 different areas of law online via any internet accessible device. Datalaw also provides tools to help Solicitors and law firms track and monitor their CPD progress throughout the year. In response to the SRA continuing competence scheme we have created an online Self Assessment Tool that enables solicitors to comply with the SRA continuing competence scheme and its four domains in just 3 easy steps: Reflect, create an action plan, evaluate and document/print off your training.
See more about the SRA Self Assessment Tool here.
See all our Legal CPD Courses:
We automatically evidence all your CPD. Wouldn't it be great if every second you spent training was tracked, organised and recorded automatically for you to give evidence to the SRA? You're in luck! Our new CPD Tracker gives you instant access to view all your CPD training. Tracking start, end and completion time and date, your unique CPD tracker builds up a complete picture of your training. All training evidence can be filtered by the date and printed with the push of a button for SRA evidencing. It even allows you to view a breakdown of which areas you have been spending the most time in!
Instantly get your certificates, no more waiting around for certificates to come in the post. With Datalaw once you have completed a course just click the trophy button and instantly view your certificate. All your certifications are safely stored on your account for any-time access and can be printed off at the push of a button.