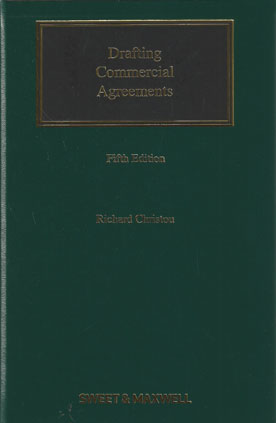 Author: Richard Christou
Publisher: Sweet & Maxwell
Publication date: October 2013
Format: Hardback + CD
For the 5th edition of Drafting Commercial Agreements the commentary and precedents have been updated to take account of current legislation, case law and practice. In particular the fifth edition has considered the following new developments:
Legislation:
New EU legislation, including the Directive on Consumer Rights (2011) (creating new regimes for distance and off-premises contracts and amendments to the Unfair Contract Terms and Guarantee Directives, and to the general law governing consumer contracts)
The latest Block Exemption for Vertical Agreements (2010) (with its effect on agency and distribution agreements)
The Directive on Late Payment for Commercial Transactions (2011)
The Commission's latest proposals (in 2013) for a Directive on civil damages for infringements of the EU antitrust rules (together with recommendations that member states institute collective redress procedures for such infringements)
Changes to the Technology Transfer Block Exemption (2004)
Developments in employment law, including abolition of the retirement age, new proposals on directors' remuneration (particularly under the Enterprise and Regulatory form Act 2013) and the current position on dealing with pension funds in deficit
The new regime for registration of charges under the Companies Acts brought in from April 2013
It also covers changes to UK Competition Law, including the new regulatory framework under the Enterprise and Regulatory Reform Act 2013, and its impact on mergers, acquisitions, anticompetitive agreements and the cartel offence), the current UK position on damages for breach of the Competition Act, 1998 (as discussed in Devenish v Sanofi-Aventis and Albion Water v Dwr Cymru Cyfyngedig) and the latest position on land agreements brought under the Competition Act since 2010.
Case law coverage:
Confidentiality – public domain, springboard, employees' confidentiality obligations, equitable remedies, particularly Vestergaard Frandsen A/S v Bestnet, Tokio Marine v Yang, Force India v 1 Malaysia Racing (CA), Romero v Templeton, White Digital Media v Weaver, Customer Systems v Ransom (CA), Ashcourt Rowan v Hall
Negligence – liability for economic loss (VL v Oxfordshire, Wooldridge v Torridge, An Informer v Chief Constable (CA) , Home Office v Mohammed (CA), Glaister v Appleby (CA), Patchett v Allied Trades (CA), Desmond v Chief Constable (CA), Cooperative Group v Birse) and reconsideration of basis of liability for personal injury – Selwood v Durham (CA), Woodland v Swimming Teachers Association (CA), Everett v Comojo (CA), Bhamra v Dubb (CA).
Whole agreement clauses – Axa (CA), Springwell (CA) and Shoreline (CA)
Construction of contracts – Estafnous v London & Leeds (CA), Scottish widows v BGC (CA), Bhatia v Tour (CA), Cherry Tree (CA), Johnson (CA), Sea Fishing Authority (UKSC), Lloyds Foundation v Lloyds Bank (UKSC) and Durham v BAI (UKSC)
Other cases – Deutsche Bank v Khan, Transworld v Bombardier (UCTA and conflict of laws), Jet2.com v Blackpool (reasonable and best endeavours), Rooney v Bournemouth (ticket cases), GHSP v AB Electronics (battle of the forms), Yam Seng v ITC (possibility of implied terms of good faith in commercial agreements) Francotyp-Postalia v Whitehead (blue pencil test) Autoclenz v Belcher (UKSC) definition of independent contractor)
Contents
Part 1 – Supply of Goods and Services
Basic principles
Standard conditions for supply of goods
Standard conditions for the supply of services
Standard conditions for the supply of a system
Standard condition for the supply of goods and services to consumers
Part 2 – Agency and Distribution
Basic principles
Standard agency agreements
Standard distribution agreements
Part 3 – Mergers and Acquisitions
Basic principles
Share acquisitions
Asset acquisitions
Part 4 – Other commercial agreements
Joint ventures
Confidentiality agreements
Employment contracts
Teaming agreements
Securities for debts
Dispute resolution and settlement agreements
Technology licensing agreements
The author
Richard Christou is Corporate Advisor of Fujitsu Ltd and has many years of experience drafting, advising on and negotiating commercial agreements.
Richard regularly gives talks and presentations at events and conferences and has written many other titles including Boilerplate Practical Clauses, International Agency, Distribution and Licensing Agreements and Sale and Supply of Goods and Services.