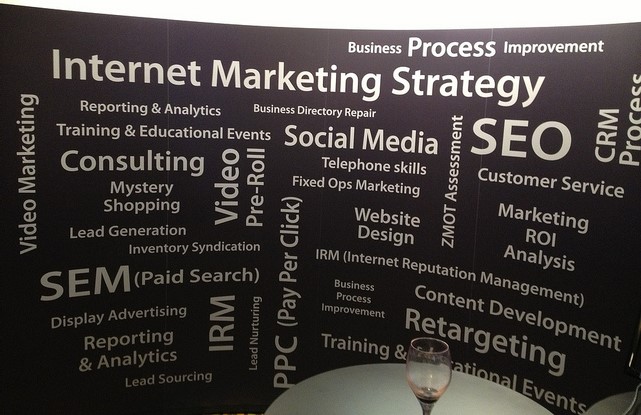 A good website with lots of useful information is no longer enough; the site has to be "marketed".
Over the last 10 or 15 years, a large number of digital marketing companies have sprung up, typically offering to design and implement an impressive website and provide it with the key factors which will encourage the viewer to make contact and, hopefully, to become a client. These companies offer some of the following:
website creation, including mobile sites and sites for multiple platforms ("responsive" sites);
creation of a brand, particularly for larger firms or groups of firms;
provision of content for the site (which will depend on the services being offered);
content management systems, which enable the content to be checked and updated in a controlled and organised manner;
search engine optimisation (SEO), ie getting Google to place the site at the top of the results page for relevant key words (or not too far down);
advice on the paid advertising which could be undertaken, usually with Google and usually involving pay per click (PPC);
email marketing which, due to data protection measures, is now quite a complex activity, often linked to the provision of online newsletters;
market research, including surveys of past clients, call tracking and phone calls to the firm pretending to be potential clients, in order to assess the quality and consistency of the response;
using social media to lead viewers to the website;
niche marketing, ie providing targeted content for particular types of potential client;
obtaining client referrals, and presenting these in the best possible light;
links with traditional media, eg print, to maximise the overall effect in particular locations or in particular work areas.
More extensive information on the companies described below can be found on my web site at www.venables.co.uk/services.htm, including links to the companies' websites, contact details and a selection of the legal firms for whom they have provided services.
There are many other good companies also providing these services – but the ones described here, and on my website, work mainly with lawyers.
Berners Marketing helps law firms build their profile effectively, offering a comprehensive portfolio of marketing support. From their director's in-house experience (with Pinsents), they have a clear understanding of how law firms work and the importance of the interaction between their people, services and target markets. They understand the importance of content, and have a unique team of lawyers and barristers (who provide the content for the legal articles), and marketing professionals who ensure it is communicated effectively. They ensure that their clients benefit from mobile friendly websites, which come with an easy to use content management system and UK-based support and training.
Cal Partners provide Chartered marketing and business development solutions for professional services firms including solicitors, barristers, patent and trade mark attorneys, notaries, mediators and arbitrators. They offer strategic marketing and business development planning; digital marketing (web development, SEO, PPC, CRO, remarketing, mobile, social media, content and email marketing); market research; project management; CSR; tenders and bids.
Conscious Solutions provide websites, marketing and intranets specifically for law firms. They can help re-design a firm's website and build the brand by paying particular attention to SEO, PPC, email marketing, newsletters, legal content, visitor intelligence, infinity call tracking, social media and SuiteCRM. For over a decade they have been working with law firms of all sizes helping them design, build, run and maximise the return of investment on their websites. Using their lead generation strategy, they can look at a firm's business, identify the key areas of work and design a strategy. They can also provide a comprehensive website health check report, testing 100 pages of the website and identifying improvements.
Great Legal Marketing specialise in finding, getting, keeping and growing the client base of law firms. They do this primarily through practical email newsletters, email marketing, referral marketing and website marketing strategies. They also consult with firms on wider issues to get Partner buy-in to marketing so it can be successfully and profitably implemented.
Hallam Internet is a leading provider of Internet marketing consultancy services to the legal profession, with a proven track record of working with firms to acquire more clients. As a Google Certified Partner, they have specialist expertise in delivering search engine optimisation, pay per click advertising, social media, and email marketing campaigns. Hallam also provides CPD courses in the use of LinkedIn and other Internet marketing technologies.
I-COM is a Manchester-based digital marketing firm specialising in delivering integrated marketing campaigns including everything from website design and development to SEO, PPC, PR, Content Marketing, Email Marketing, Social Media and more. A certified Google Partner, I-COM has worked with law clients including JMW, Lupton Fawcett, Percy Hughes and Roberts and Ramsdens Solicitors.
Kim Tasso (RedStarKim) is an independent consultant with over 20 years' management, marketing, business development, sales and relationship management experience, much of it with lawyers. She has worked for over 300 legal, property and accountancy clients advising on and providing training in the strategic and operational aspects of marketing, selling and client development. There are many useful articles and blogs on the web site about marketing for lawyers (solicitors and barristers).
Legal Marketing Works provide database/direct marketing, niche marketing and SME membership schemes as well as email marketing, social media and content. They provide a holistic view of marketing activities dependent on the firm's work types, goals and budget. They have no minimum spend. If the firm has just £200 a month to invest in marketing there will still be ideas to discuss and implement.
Legallybetter is a client feedback and case studies service that helps firms to generate revenue growth through client engagement. Firms can join the service for free by adding their details to the site. Once added, they will have a dedicated link to an online feedback form that they can email to clients, add to their website and social media to generate feedback. For a small fee, printed postage-paid feedback forms are available. To achieve the best results, they recommend telephone calls with clients: their telephone feedback service guarantees an 80%plus response rate.
Maltin PR is a public relations and communications agency specialising in raising the profile of professional services companies, including law firms. Their range of services include traditional and digital PR and public affairs, as well as social media, branding and website design, events and media training. Their services also include competitor analysis, search engine optimisation and campaign strategy.
Moore Legal Technology helps law firms use the internet more effectively to increase their revenue. Founded by former lawyer Stephen Moore, most of its team members have a legal sector background – qualified lawyers, legal marketers and law graduates. They blend legal and technical expertise to help generate significant volumes of profitable new enquiries for their network of law firm clients. They have experience in brand development, the development of content rich conversion focused websites, SEO, PPC, email marketing, PR, lead nurturing, call handling support, and sales training.
PilotBean specialises in providing web solutions for law firms and barristers chambers. They have the knowledge and skills to complement the most demanding online strategies including the creation and development of specialised websites, event management systems, email marketing, e-commerce, document automation and intranet systems.
realityhouse creates brand identities, website, videos, print work and commercial campaigns for legal and professional services clients. Their integrated marketing service provides comprehensive support to in-house marketing teams driving campaigns and projects to deliver a real return on investment.
Rokman Laing helps professional service firms to engage more effectively with their clients. With nearly 20 years' experience they provide strategic marketing solutions to help position the firm in the market it wants to be strong. In particular, they provide marketing consultancy, digital marketing, bid and tender management and client research.
Samson Consulting is run by former solicitor Nick Jervis. He works with the decision makers in law firms turning over from £100,000 to £5,000,000 with the aim of doubling or trebling their turnover. He does this by putting in place automated marketing strategies that generate a steady and consistent flow of new client instructions. He offers any solicitor the chance to speak with him before investing in their marketing activity.
Tela develops websites and online marketing strategies to find the best way that digital technology can interact with a target audience to generate measurable results. Services include online marketing strategy, design and UX including brand, interface design, websites / micro-sites and web apps, promotional material, CMS, responsive web development, email template build and integrations, e-commerce, recruitment and ongoing online promotion.
Vuture is a cloud based marketing technology which enables a user to create and manage their marketing communication programs including digital (extranets, intranets, microsites, email, social media), print (brochures, print advertising, pdf production), surveys (extensive data capture with CRM full integration) and a marketing asset manager.
Web Pro IT (incorporating Legal and Financial) offers a wide range of professionally developed websites for solicitors with 21 designs to choose from, all fully loaded and interactive. Each design provides for over 30 pages of information about the firm, featuring several practice areas included as standard.
Websites for Law Firms is run by Simon Goodlad, a specialist in creating effective websites for Solicitors, Notaries and Law Firms. He offers website design, search engine optimisation and content writing and delivers new enquiries to law firms by achieving high rankings in Google and other search engines. Simon was previously a Marketing Manager for general practice law firms and has created many websites for legal professionals.
Words4Business, run by Joe Reevy, has been the leading supplier of "firm to client" content and newsletters for law firms since 1999, creating more than 1,500 B2C content items for law firms annually. Using retained court reporters and a superb editing team, content is always fresh, accurate and designed to gain business. They are a preferred supplier of LawNet firms. They also supply LegalRSS, a high quality legal news and content management and BD automation system for law firms. This integrates directly into a firm's existing website and includes automated social networking, multiple site management, content sharing and instant e-newsletter creation.
Delia Venables is joint editor of the Newsletter. Email delia@venables.co.uk. Twitter @deliavenables.
Image cc by DigitalRalph on Flickr.
Tweet