Mark Debenham represents Justis Publishing.
"Headnotes reign supreme when it comes to digesting cases because they tell you what happened and what the result was. They give you the facts," a London-based barrister said to me last year.
A true and succinct assessment – just like a headnote. In the digital age where there's so much case law online and, in turn, so much that potentially needs to be read, a headnote is just what you need. Are they enough, though?
Is the current system of law reporting really adequate? No, I would say. What's interesting is looking at why it's not, developments to improve it and the impact that these changes might have on the way the law is reported and how it will be researched in the future.
Why current law reporting is inadequate in a fast-changing world
Well, not every case gets reported and therefore benefits from a headnote. And, perhaps, rightly so. As brilliant as it'd be if every case had a handy summary of its facts and points of law, it's useful to have some kind of selection process to focus your legal research, rather than having to sift through everything. Often the headnote treatment is reserved for important cases that actually make some kind of change to the law.
But does that mean that all the unreported cases that don't have headnotes are unimportant and discardable because they didn't pass the selection process?
Increasingly, the answer is no.
The voluminous amount of case law and the finite number of legal editors renders it an almost insurmountable, and certainly uneconomical, task for every case to be fully considered for reporting. Consequently, many unreported, yet important, cases are being overlooked. Plus, what is deemed important and useful isn't uniform across the board – individuals' research needs will depend on the particular case that they're working on at that time.
If a case hasn't been selected for reporting, there's no reason why it can't be used if it can help a lawyer in their own case. Consider the following from Lord Denning, writing in the foreword to the microfiche edition of The Court of Appeal Transcripts 1951-1980:
… every decision of the Court of Appeal on a point of law is binding on all courts of first instance and on the Court of Appeal itself. No matter whether the decision is reported in the regular series of Law Reports, or is unreported, it is binding. Once you have the transcript of an unreported decision, you can cite it as of equal authority to a reported decision, so it behoves every counsel or solicitor to find, if he can, a case – reported or unreported – which will help him advise or win his case.
It's therefore wise to consider them in any search. And there are many of them. To give some perspective, Justis Publishing has a series called the England and Wales Civil Appeal Judgments, and another which is its criminal counterpart. Both series, when combined, cover over 200,000 reported and unreported cases from the past 50 years, with the vast majority being unreported.
Sifting through all of those would be a laborious task. Fortunately, they're available online on the Justis legal library. The benefit of online technology is that searches can be tailored for specific content and results can be filtered, making it easier and quicker to find the case you're looking for.
What's being done to improve it
While online technology enables the user to make light work of searching through and identifying unreported cases, particularly in lieu of a headnote or a loose leaf service, the new challenge is in digesting them.
This is where technology plays its part and where Justis Publishing's flagship product, JustCite, comes into its own.
JustCite is an online legal research platform that helps users find leading authorities and establish the current status of the law. It has a search engine, with built-in citation index functionality, that focuses on case law and legislation from common law jurisdictions around the world. It links through to the full text of the documents from over 100 different legal databases including Westlaw, LexisNexis, and the Justis online legal library.
Of course a vast amount of content is only useful if you're able to harness it and glean useful information from it. This thinking is at the heart of JustCite's design, as its features enable users to digest and navigate both reported and unreported cases.
All fully indexed material on JustCite, such as cases and legislation, has been painstakingly read and referenced accordingly by Justis Publishing's legally-trained editorial team. The benefit of this is that is makes it easier to see the relationships that cases share with one another, as they are cited in the context of meaningful legal terms such as "distinguished by", "applied", "overruled", "not followed" and the like.
This, in turn, fuels the JustCite Ranking system""a sorting feature that ranks search results by their true relevance, rather than by keyword frequency, so the leading cases are displayed first.
Furthermore, the relationships between cases and development of the law can be presented in a way that makes the information easier to digest.
JustCite's Precedent Map feature is a visual tool that shows the network of authorities for each case. It helps users quickly see how cases are related to one another. The Precedent Map places a case in the centre of the screen as its "focus", and then around its perimeter displays the key previous cases that the focus case has cited and subsequent cases that cite the focus case. Colour-coded arrows are used to connect cases in the network and show the citation type.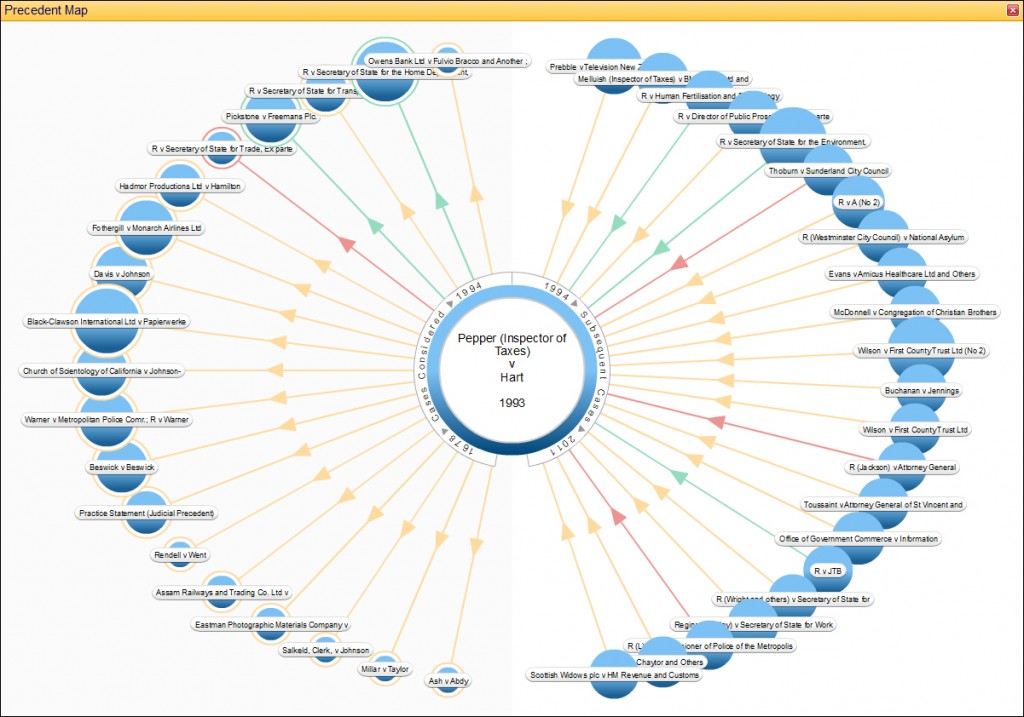 Citations in Context is another of JustCite's visual features that helps users digest cases quickly. It shows you all the paragraphs in which the case in question has been cited in other judgments. Citations in Context isolates and highlights the paragraphs, allowing users to read the most pertinent information first before deciding whether to read the whole case. This enables users to quickly ascertain the importance of a judgment to their research, and speeds up the process of identifying more relevant authorities.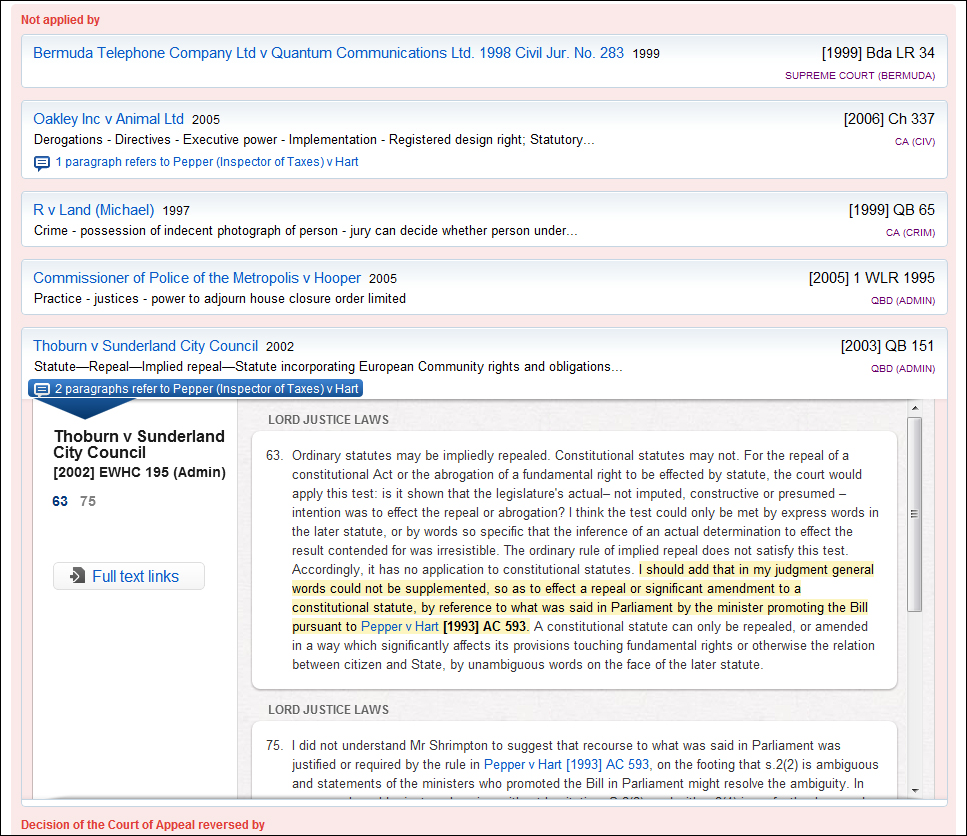 What of the future?
JustCite's features, as described above, combine legal expertise and technological innovation to offer a wealth of information where a headnote is absent, as well as complementing the analysis in the presence of one.
Furthermore, they offer information about reported and unreported cases in a way that is different from traditional law reporting. Is the cause of this difference a worry for the future of law reporting, though?
It isn't when you reflect that traditional law reporting is, in part, a direct result of whatever technology was available at the time. Put simply, the book.
As a result of the limitations on searching that books offer, at the time, it was important to have a structured index and appropriate subject terms to allow the user to easily navigate to documents that were relevant to them. Also, because a book is difficult to navigate quickly it was necessary to summarise the content of a particular judgment as it would be more difficult for the user to flick through irrelevant passages of text to get to the salient points.
It's no surprise then that law reports ended up with the component parts that we are all familiar with such as subject terms, headnotes, summaries of the facts and citations.
But what if law reporting only came about today and online technology had preceded it? Our expectations of law reporting and what something like a headnote would include would inevitably be different.
We'd surely expect every single case to be online and any analysis-like take on one to consider pretty much every other case that could be relevant. Furthermore, it's my feeling that we'd expect this analysis to be updated as quickly as possible. After all, the technology would've already been in place to make these expectations realistic possibilities.
Had online technology been available at the outset of law reporting, then our expectations of the component parts of law reports would surely be different from those of headnotes as we know them today. Perhaps the concept of headnotes wouldn't have even come about in the first place. Perhaps, instead, we'd expect the kind of meta-information that we get from JustCite's features rather than the flat information of a headnote. Namely, we'd want insightful information about cases that's updated in a timely fashion and considers all types of cases from a range of sources, rather than what legal editors deem relevant.
That's hypothetical thinking and headnotes still have their place. Justis Publishing is still selling a large number of different law reports series and has recently bought one series, the Bermuda Law Reports, and entered into a partnership on another, the Information Law Reports with 11KBW, to name but two.
How long do headnotes have left, though? JustCite empowers practitioners to find, analyse and digest cases that are relevant to their research – regardless of whether they've been reported – tailoring their research to their needs and, essentially, become their own legal editor.
Technology influenced the beginning of law reporting, it's changing the way we research the law today, and it'll play its part in the future. That future is yet to be decided, but it's surely only a matter of time before headnotes no longer reign supreme but rule as part of a collective of incisive legal media.
Mark Debenham works in Justis Publishing's marketing team. He has written articles, and interviewed practitioners, for a variety of legal industry websites and magazines in the UK, Australia and Canada.
Justis Publishing is a UK-based independent electronic publisher and provider of legal information and software services. The company provides a range of online material on UK and Irish, EU and International Law through its Justis and JustCite legal research platforms. Its Criminal and Civil Appeal Judgments series are the largest searchable collections of UK case law from the last 50 years.