Suddenly it's not just employers and employees who feel threatened by the pace of change in employment law; it's the business of delivering employment law that is changing so suddenly.
The latest figures show that employment tribunal claims are down enormously on previous quarters due to the implementation of fees, but these are not the only changes which will have an impact: two years' service before unfair dismissal rights, protected conversations and enforced mediation will all play their part in reducing claims.
As employment law solicitors how do we react? How do we sell our services in such a competitive (but shrinking) market?
Traditional sales methods demand time and energy
Ignoring the changes outlined above, selling employment law services to SMEs is already an incredibly competitive challenge. Lawyers don't just compete against each other in this field; for many years we have competed against the stack "˜em high HR operators who wrap insurance-type products into a telephone helpline and advocacy service. Whatever you might think of them they are very successful and have the financial clout to out-market most law firms. They are also focused, know who they are and what they do, and understand their key selling points. There are not many solicitors firms who can say the same thing.
The current sales framework for the average commercial law firm consists of:
We compete (with varying degrees of success) online with websites. The key challenge faced by lawyers is the complexity of their offering compared to dedicated HR providers. Most law firms don't just do employment law. This means that the employment law message is hidden amongst other offerings. It is a big challenge and can reduce the efficacy of online sales for solicitors.
Social media. Very tricky to get right unless you have a firm with media savvy and interesting fee earners who like social media as well having "real stuff" to talk about.
Seminars deliver results and do not have to be expensive. However they are very time consuming and difficult to maintain over time.
Networking of course works really well for the right people. The real question is: how many of us lawyers are the "right people" for networking?
The reality is that many firms use a mix of the above, with varying degrees of success, and then use good service and success to retain the client. "Word of mouth" does the rest.
But in a changing world is it enough? Is there something more, something else to add to the mix?
What is "My HR toolkit"?
Over the last 8 years we have developed an online HR system called myhrtoolkit. You can see it at www.myhrtoolkit.com. This is owned and run by Myhrtoolkit Limited, based in Sheffield. It has nearly 250 clients (about 14,000 employees) who regularly use the product. It is growing very quickly.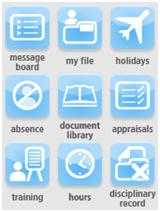 Put simply, it is an intranet system where employees and managers can book holidays, view HR documents, manage sickness absence, manage tasks and so on. It's an online system that does away with the need for complex local installation and requires minimal set up; most SME clients do this for themselves. "˜Software as a Service' (SAAS) pricing means a modest monthly fee based on user numbers, rather than big up-front fees plus annual maintenance charges. Price is rarely a barrier.
It is very secure, meeting today's modern standards with all client data fully encrypted. I am happy to provide more detail on security if requested.
The background of law firms developing online apps and myhrtoolkit in particular was discussed in the March/April issue of the internet Newsletter for lawyers under the title "Lawyers selling SAAS". There are further details of how the system works in that article.
Who buys myhrtoolkit?
A quick calculation on the numbers above indicate an average employee size of just over 50, although myhrtoolkit can handle clients up to 500 comfortably, and with upgrades due this year, should be able to handle employers of any size. In reality the "sweet spot" is probably companies sized from 50 to 250 employees. This is of course, the key demographic for many mid-sized law firms; particularly for employment law teams as the businesses are big enough to have significant needs but not really big enough to have much in the way of technical in-house resource.
And bear in mind that myhrtoolkit does not provide content. All of the documents and policies that you provide for your clients can be added to and managed by the system.
Can solicitors sell myhrtoolkit?
This is the million dollar question! Here is my attempt at an answer.
The first point to make is that if other people can sell it, why can't solicitors?
Tom Doherty is Managing Director of HR Dept, one of the UK's leading human resources advice companies:
We've been working with myhrtoolkit for around 5 years now. It's been an important addition to our product offering. The HR Dept is a franchise HR company with franchisees all over the UK and the take up of Myhrtoolkit by our advisers has been phenomenal. They love it because it helps them compete against bigger players who have similar systems. I know that we have won work from competitors because of the toolkit. It is a quality system which works well and clients love it.
Let's be honest: solicitors are a shy bunch when it comes to promotion and sales. But the world is changing, and unless we can "commercial-up" and motivate our teams to sell as part of their duties we will struggle to compete against the big players already in the market and those looking to enter.
It's got to be possible: I myself have sold many licences to clients: both existing clients and new.
Existing clients
The "hard sell" does not work with myhrtoolkit. So whilst we would recommend introducing myhrtoolkit in your newsletter, on your website, or by email you should not expect it to get large numbers of sales.
What works brilliantly is one simple phrase, given to clients at just the right time: "It looks to me as though you would benefit from using an online HR system. Most SMEs are moving in this direction right now. We use a system called Myhrtoolkit. Shall I ask them to give you a call?"
It works well, it does not involve any embarrassing sales patter, and it get results. Our sales team then take over, the sale is won, and you reap rewards: a regular "while you sleep" revenue share.
New clients
When tendering for work, speaking at events, or networking, myhrtoolkit is a great way of standing out from the competition. It is a genuinely interesting proposition. As with the above, all you need to do is refer the client to us and we'll do the rest on your behalf.
Agency or distribution
Most employment lawyers will remember the distinction between the two. We can work with you on either basis.
If you refer clients to us as an agent, the client contracts with us for the service. You merely introduce them to us and we do the rest. Clients can log in from your own website if you like and we can also put your logo in the top left of the screen so that you remain foremost in their minds.

If you sell as distributor you will contract directly with the client and we will contract with you. This is more hassle for all concerned but it does mean that you get more control and can bundle it as part of your own legal services / HR package. In this case invoices come from you. We can still provide technical support of course.

What is the proposal?
I'm interested in finding friendly, like-minded employment lawyers across the UK who would like to add myhrtoolkit to their portfolio. There is no cost and I will willingly teach you how to use myhrtoolkit in your sales mix.
BUT – there will also be opportunities for firms looking for further cooperation and collaboration on marketing and sales generally. I'm looking for at least one good contact per UK City and possibly three of four in London.
You can find out more about myhrtoolkit at www.myhrtoolkit.com.
If you are interested in these opportunities, please email me (as below) and we can have a conversation. Please set out briefly what your interest is, and we can talk the possibilities through.
Jon Curtis is head of the Employment Law team and a founding partner of Ironmonger Curtis LLP, a specialist commercial law firm based in Sheffield. Established in 2005, the firm focuses on providing quality commercial legal services at competitive prices. He has years of experience advising primarily SME businesses and executives in employment law backed by a team of specialist employment lawyers.
Email jon.curtis@ironmongercurtis.com.
Jon also has a creative streak and is the designer of the ground-breaking online HR admin system myhrtoolkit).