With Emily Allbon
Legal design is the process of applying design-thinking to complex legal information, to make the law more accessible and easier to understand for its intended audience. Never was it more evident how ill at ease most of us are when it comes to digesting legal information, than during the pre-GDPR flood of privacy policies into our email inboxes. How many people actually read these missives?
Access to justice
We've all seen #thelawisbroken stories and understand that the idea of "access to justice" has been battered by the severe cuts in legal aid. Legal design cannot of course plug this gap single-handed; access to a lawyer and to the courts, or some form of alternative dispute resolution, should be an option for everyone regardless of their financial situation. However, legal design does have the power to provide access to justice for millions of people around the world, by simply communicating information in a fair, efficient and simple manner. If people understand initially what they're agreeing to, the likelihood of disputes is lessened; it has a preventative role. Similarly, if information is available to help them take a first step in understanding that their problem is indeed a legal one, and what the possible routes for resolution might be, that would be a huge step forward.
Comic contracts
There are many real-world examples of legal design, but none perhaps that have captured attention more than comic contracts. These are contracts in visual form, not simply a comic-strip "explainer" adding value to the contract, but a binding contract agreed upon by both the employer and employee, where the images are as important as the words. Leaders in this field include South African lawyer Robert de Rooy who created an employment contract for ClemenGold, where he was legal counsel. This contract was developed for their fruit-picker employees, many of whom spoke English only as a second language and as such would have difficulty with formal legal language. De Rooy has spoken of how this method shifts the power balance and empowers employees. Professor Camilla Andersen from the University of Western Australia is working with global infrastructure firm, Aurecon, to create their visual employment contract, cutting a massive 4000 words from the contract in the process.
Human-centred design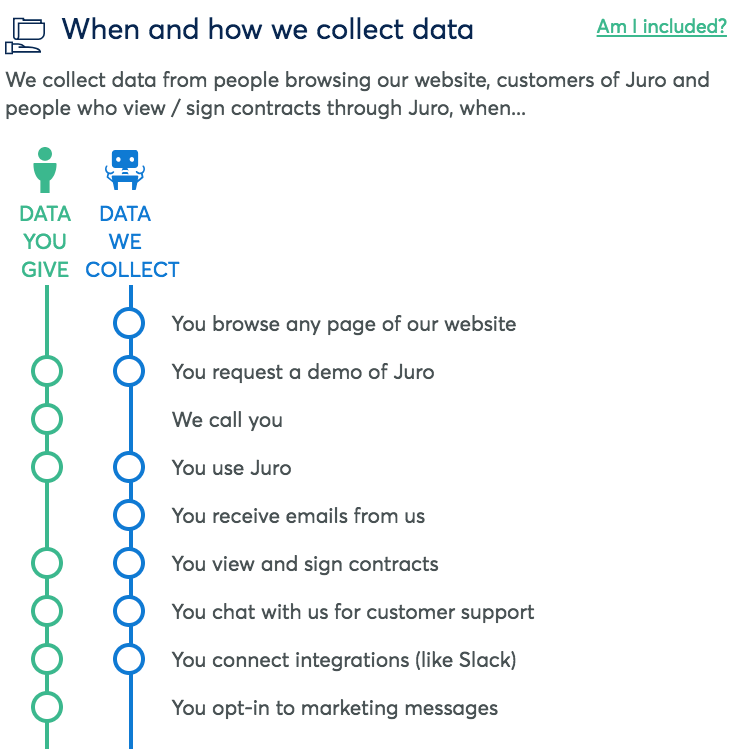 Legal design combines the discipline of human-centred design, where problems are solved by including the human perspective in all steps of the problem-solving process, and information design that is focused on presenting information in a way that fosters efficient and effective understanding of it.
We encounter comparable forms of human-centred design and information design communication every day, often in the form of signs, icons and symbols, that are used to communicate information across cultural and language barriers. Today we are starting to see this approach applied to legal information. Notable examples include the contract management solution, Juro, whose team collaborated with acclaimed legal information designer, Stefania Passera, to reinvent their privacy policy (pictured). The outcome demonstrates that when lots of information is required to be displayed, icons and consideration of the hierarchy can make a large difference in understanding and navigating the information. Design patterns have been developed to help us display content in a way that allows users to grasp information more effectively. Passera and Helena Haapio describe these as "repeatable best practice solutions to communication problems in contracts" ("Contracts as interfaces: Exploring visual representation patterns in contract design" (2017)).
Applying human-centred design in a legal context can also be seen in our online services as well as text documents. JustisOne's Precedent Map visualises the relationships between citing and cited cases, to enable practitioners to see at a glance where an authority has been considered. Traditionally this would often require ploughing through multiple court judgments and reading each judgment and the subsequently cited passages to see how a case has been treated.
International growth
The concept of legal design should therefore not be too unfamiliar to many of us. Its appeal and commercial use are expected to increase with independent projects, organisations and education-led initiatives starting to appear around the world. For example, if you are in the Palo Alto area of California you might want to visit the Legal Design Lab, an interdisciplinary venture based at Stanford Law School and d.school, which aims to train law students and professionals in human-centred legal design. Alternatively, if you happen to be in Helsinki, Finland, you can swing-by the legal design consultancy, Dot. and sign up for one of their workshops or a design jam.
Recently in London, The City Law School and Justis hosted the Legal Design Sprint for students in order to give the next generation of legal practitioners an opportunity to apply legal design thinking to real-world problems presented by organisations such as Jisc, Browne Jacobson LLP and the ICLR. Participants were given guidance on design thinking from global design agency Method.
These examples are just a few that demonstrate that legal design is growing in dominance and that it is starting to engage multiple international audiences. However, legal design has been in the making for a number of years. At the City/Justis Legal Design Sprint, the Chief Innovation Officer for Jisc, Dr Phil Richards, suggested Lord Woolf's review of the civil justice system was the first step towards legal design. The merging of the White Book and the Green Book, and the order to simplify the language used within the new Civil Procedure Rules to make the system of civil justice more accessible, fair and efficient, were possibly signs of what was to come.
Innovative design
The ideology of communicating legal information in a fair, efficient and simple way has been embraced by creative professionals around the world, including artist Candy Chang. Chang took those laws commonly violated by street vendors in New York, and turned this information into an accessible visual information guide to give a population of 10,000+ street vendors better access to the law, and empower them to operate within the law. Indeed the visual guidance even gave them the confidence to challenge police officers who tackled them in relation to infractions.
Previously the street vendors were required to navigate a myriad of information including a 58-page city guide. Relevant documents were not all available in one place and regulations were contained within densely worded documents in unfamiliar complex language, which left street vendors in a vulnerable position. The guide produced by Chang and the Center for Urban Pedagogy, called Vendor Power, was also translated into five different languages, providing further assistance to the vendors when English was not their native language.
Innovative design is not something limited to countries outside of the UK; one of the most exciting ventures to emerge on our shores has been RightsInfo. Developed by barrister Adam Wagner (who also created the excellent UK Human Rights Blog whilst at the chambers of One Crown Office Row), this resource uses a range of visual tools to engage users in their content; from infographics to videos, from collector cards to timelines.
Aims of legal design
So what does legal design, and the ideology of communicating information in a fair, efficient and simple manner aim to achieve? It may be clear now that the aim of legal design is to help an individual understand legal information which may take the form of terms and conditions, contracts and tenancy agreements. However, legal design is doing much more than enabling people to understand unfamiliar legalese.
When you translate a legal document, such as a contract, into an easy-to-understand format, you increase access to justice for all those affected by the aforementioned contract. You remove the need for a lawyer to translate the legalese into simple terms and the associated cost which is often far beyond what many individuals can afford. You empower individual members of the public with knowledge of the law.
We've seen examples of privacy policies designed to help users navigate important information; city regulations visualised and translated into different languages to help street vendors; handy explainer guides to human rights from Rights Info; and you can even access an online legal design toolbox for those unable to visit the Legal Design Lab in person. So where next, and how will this impact practitioners?
This is an opportunity for legal practitioners and law firms to work with designers and legal design specialists to ensure that the legal information, contracts, and terms they produce can be understood by the intended recipients. Legal practitioners and law firms can add to their service catalogue for their client's legal design service, which could subsequently help many more people if the contracts firms create are for public-facing businesses, or are intended to be distributed by their clients.
Law firms need to be much more open to engaging the services of those outside of the business, whether they be designers, psychologists or technologists, and of course embrace working with the clients themselves. Universities should also be looking to include legal design as part of their offering; fostering a new wave of legal practitioners for whom empathy is a vital part of their skill set.
Emily Allbon is a Senior Lecturer in Law at The City Law School, University of London, the creator of the award-winning Lawbore law resource website for students, and has been named a National Teaching Fellow by the Higher Education Academy. Email e.allbon@city.ac.uk. Twitter @Lawbore.
Dr Matthew Terrell is the Head of Marketing for Justis, and the driver behind the Law & Technology International Writing Competition. He has extensive experience in media design. Email matt.terrell@justis.com. Twitter @Justis_London.