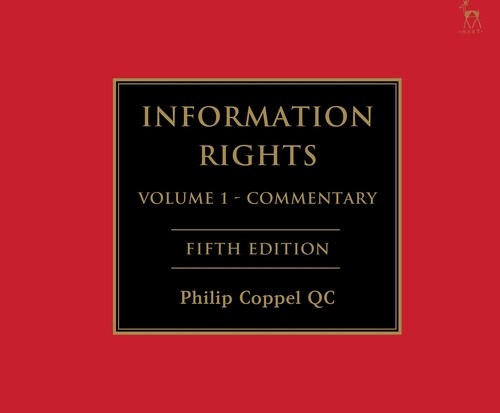 Retaining the position it has held since first publication, the fifth edition of this leading practitioner text on information law has been thoroughly re-worked to provide comprehensive coverage of the Data Protection Act 2018 and the GDPR.
Information Rights has been cited by the Supreme Court, Court of Appeal and others, and is used by practitioners, judges and all those who practise in the field. The new edition maintains its style of succinct statements of principle, supported by case law, legislative provisions and statutory guidance.
Reflecting its enlarged scope and to maintain easy referencing, the work has been arranged into two volumes.
The first volume is a 1,250-page commentary, divided into six parts. The first part is an overview and introduction to overarching principles. The second part provides an authoritative treatment of the data protection regime. This covers all four forms of processing (general, applied, law enforcement and security services) under the GDPR and DPA 2018. Each obligation and each right is comprehensively treated, with reference to all known case-law, both domestic and EU, including those dealing with analogous provisions in the previous data protection regime. The third part provides a detailed treatment of the environmental information regime. This recognises the treaty provenance of the regime and its distinct requirements. The fourth part continues to provide the most thorough analysis available of the Freedom of Information Act and its Scottish counterpart. As with earlier editions, every tribunal and court decision has been reviewed and, where required, referenced. The fifth part considers other sources of information rights, including common law rights, local government rights and subject-specific statutory information access regimes (eg health records, court records, audit information etc). The final part deals with practice and procedure, examining appeal and regulatory processes, criminal sanctions and so forth.
The second volume comprises extensive annotated statutory material, including the DPA 2018, the GDPR, FOIA, subordinate legislation, international conventions and statutory guidance.
The law is stated as at 1st February 2020.
Contents
VOLUME 1
COMMENTARY
Part I Overview
Chapter 1 – Introduction
Chapter 2 – Westminster legislation
Chapter 3 – Scottish legislation
James Findlay QC
Chapter 4 – The influence of the European Convention on Human Rights etc
Richard Clayton QC
Chapter 5 – Exemptions: general principles
Isabella Buono (sections 1-5) & Oliver Sanders QC (section 6)
Chapter 6 – Prejudice and the public interest
Isabella Buono
Part II Data protection
Chapter 7 – Data protection: introduction
Isabella Buono (section 5)
Chapter 8 – GDPR and DPA 2018: introduction
Chapter 9 – General processing: continuing obligations
Chapter 10 – General processing: data subject rights
Chapter 11 – General processing: exemptions etc
Chapter 12 – Law enforcement processing: continuing obligations
Gerry Facenna QC & Julianne Morrison
Chapter 13 – Law enforcement processing: data subject rights
Gerry Facenna QC & Julianne Morrison
Chapter 14 – Intelligence services processing
Gerry Facenna QC & Julianne Morrison
Chapter 15 – DPA 1998: concepts, rights and duties
Antony White QC
Chapter 16 – DPA 1998: exemptions
Antony White QC
Part III Environmental information
Chapter 17 – Environmental information – introduction
James Maurici QC & Jaqueline Lean
Chapter 18 – Environmental information – rights & appeals
James Maurici QC & Jacqueline Lean
Chapter 19 – Environmental information – exceptions
James Maurici QC & Jacqueline Lean
Part IV Freedom of information
Chapter 20 – The right to information
Isabella Buono
Chapter 21 – The duty to advise and assist, codes of practice and publication schemes
Gemma White QC
Chapter 22 – The request
Gemma White QC
Chapter 23 – Disentitlement
Gemma White QC
Chapter 24 – The response
Gemma White QC
Part V Exemptions
Chapter 25 – Information otherwise accessible
Gemma White QC
Chapter 26 – Security bodies, national security and defence
Oliver Sanders QC
Chapter 27 – International and internal relations
Oliver Sanders QC (section 2)
Chapter 28 – Economic and financial interests
Chapter 29 – Investigation, audit, law enforcement and the courts
Isabella Buono
Chapter 30 – Privilege
Henry King QC (section 1) & Bankim Thanki QC (section 2)
Chapter 31 – Policy formulation and public affairs
Paul Bowen QC
Chapter 32 – Research, health and safety
Chapter 33 – Personal information
Antony White QC
Chapter 34 – Commercial and other confidentiality
Gavin Millar QC
Chapter 35 – Miscellaneous exemptions
Oliver Sanders QC (sections 1–2), Isabella Buono (sections 3–5 & 6)
& Aidan O'Neill QC (section 5)
Part VI Other rights to information
Chapter 36 – Historical records and public records
Chapter 37 – Local government documents
Chapter 38 – Medical records
Chapter 39 – Business and financial information
Chapter 40 – Educational information
Chapter 41 – Common law rights and controls
Gavin Millar QC
Chapter 42 – Court-held documents
Martin Westgate QC
Chapter 43 – Information held by EU bodies
Aidan O'Neill QC
Part VII Appeals, remedies and enforcement
Chapter 44 – The Information Commissioner and the tribunals
HHJ Murray Shanks
Chapter 45 – FOIA and EIR appeals
HHJ Murray Shanks
Chapter 46 – The Scottish Information Commission and FOI(S)A etc appeals
James Findlay QC
Chapter 47 – Freedom of information: regulatory enforcement
HHJ Murray Shanks & James Findlay QC
Chapter 48 – GDPR and DPA 2018: private remedies and regulatory enforcement
Chapter 49 – DPA 1998: private remedies and regulatory enforcement
Antony White QC
Chapter 50 – Warrants, offences and immunities
HHJ Murray Shanks
Part VIII Comparative law
Chapter 51 – The Comparative Jurisdictions
VOLUME 2
MATERIALS
TABLE OF MATERIALS
Part I – Data Protection
Part II – Freedom of Information
Part III – Environmental Information
Part IV – Other Rights to Information
Part V – Data Protection (post-EU Exit Day)
Part VI – Data Protection (pre-25 May 2018)
Part VII – Procedural Material
Reviews
"The book is well-structured and clearly signposted, which helps the reader locate specific details without becoming unwillingly submerged in the complexities of the field. It therefore works on two levels: as a thorough map of the information rights landscape in the UK (as at February 2020) and also a methodical introduction to many sometimes arcane areas. Because of this, it is both a useful volume for the specialist and also accessible to those not steeped in the topic. Written with evident relish for the subject, this is an admirably holistic treatment of the ever-expanding, complex but never more important field of information law and the accompanying rights." – Kate Brimsted, Law Society Gazette
Information Rights: A Practitioner's Guide to Data Protection, Freedom of Information and other Information Rights by Philip Coppel QC, published by Hart Publishing, June 2020, Hardback, £200. From infolaw.