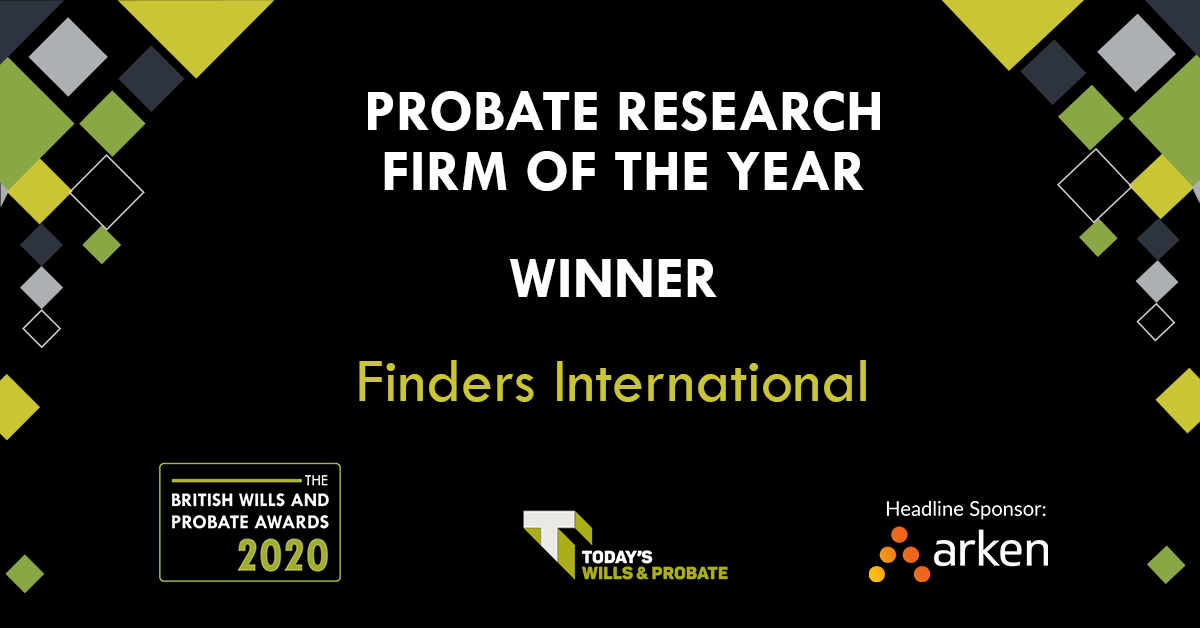 The global probate genealogy firm, Finders International have won the 'Best Probate Research Firm of the Year' award twice in 2020 by two separate judging panels.
On Thursday 21 October the Finders team were announced by host Jennie Bond, ex-royal correspondent, as the 'Best Probate Research Firm' winners at the British Wills and Probate Awards.
The event was held virtually, organised by Today's Wills and Probate and sponsored by Arken, whose aim was to document the achievements of the Wills and Probate sector and recognise the work undertaken during these unprecedented times.
The Finders win comes just a few months after the UK Probate Research Awards where Finders International scooped up three 'Probies', including the 'Best UK Probate Research Firm of the Year.'
Danny Curran, founder and managing director at Finders International, commented: "We are thrilled that two separate organisations, and their judges, have independently recognised the high quality of our work, not least in the same year! It's all down to our growing, loyal and dynamic team who have made this possible."
This award-winning team trace missing beneficiaries to estates, property and assets for the private and public sector. Other services they provide include: Missing Will Insurance, Family Tree Verification, Overseas Bankruptcy Searches and a range of International Asset Services.
To find out more, you can telephone: +44(0) 20 7490 4935 or email: contact@findersinternational.co.uk