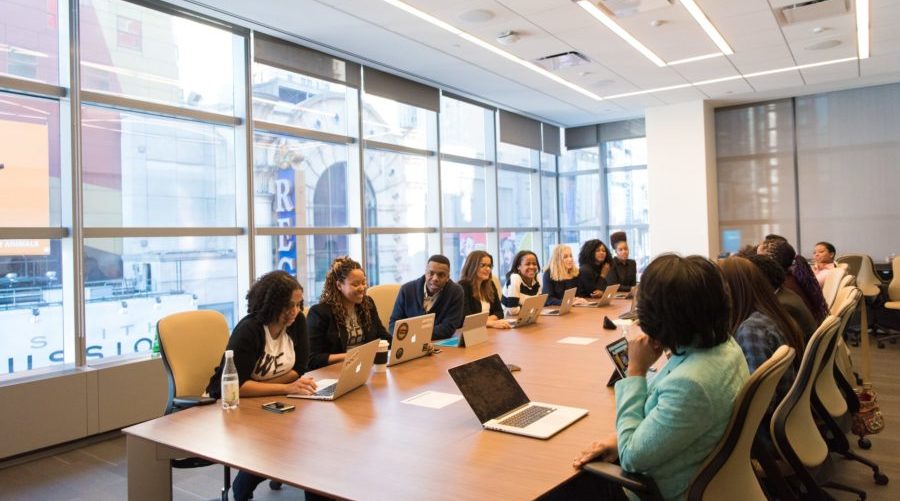 Can employee ownership work in the UK law sector? We explore this question, here…
'Taking ownership' has become a buzzword in recent years and, for many UK employees, this has a very literal meaning. Employee ownership allows staff members to own shares in the company that they work for, and is considered a great way of making employees feel more invested in the business and, therefore, more productive.
The concept is most commonly linked to the John Lewis Partnership, which has been employee owned since 1929. However, in recent years, businesses across many different industries have been discovering the benefits of this business model.
Although this is an increasingly popular model for UK businesses, we ask the question – will it work in the law sector?
Employee ownership briefly explained
Employee ownership – also known as employee stock ownership, or employee share ownership – usually involves a business allowing its employees to acquire shares in the company either by buying them or earning them. This has a number of benefits for both the employer and the employee:
The employer. As an employee owned business, a company tends to enjoy long term payback and greater focus on growth planning. Studies show that increasing employee representation at high levels can have a significantly positive impact on performance.
The employee. Employee ownership tends to remove the 'them and us' barriers which often lead to a lack of motivation and productivity from employees. When an employee owns a piece of the business – however small – they will automatically feel more invested in making the company successful. Of course, a major benefit for employees is that they own something which has tangible value.
Is employee ownership a good fit for the law sector?
Hodge, Jones & Allen were trailblazers for employee ownership and, in 2018, were the first law firm in the UK to adopt the model. The firm, which has handled high profile cases such as the murder of Stephen Lawrence, hired European company, Fieldfisher, to help the transition to employee ownership for the firm, which is over 40 years old.
After a successful transfer from an equity partnership model to an employee ownership trust, the company is now 100 percent owned by its employees. But is it right for everyone?
No – employee ownership is not right for law firms
Breaking the traditional ways
Traditionally, a law firm has a quite rigid hierarchy of partners and employees – with employees striving toward partnership through hard work and, in some cases, a financial investment. Because many people in the industry feel that this tried and tested system should not be usurped, there can be some reluctance when it comes to a move to employee ownership.
Alternative options
Law firms like Postlethwaite Solicitors have tackled this problem by implementing an Alternative Business Structure (ABS). By becoming an ABS company, the business is able to involve non-lawyers in their ownership and management structures without 'upsetting the apple cart' as it were.
Owner, Pete Postlethwaite, says, "our model works well for us because we are relatively small and individual share ownership is straightforward to manage. I wouldn't rule out having employee trust ownership longer term, but that might be around succession if one or two people retire."
Yes – employee ownership is right for law firms
Employee ownership may surprise you
One problem that some law firms envisage is that employee ownership may require something of a leap of faith by shareholders and existing partners who may feel that their position is in jeopardy. However, firms like Stephens Scown, who also became an ABS company, have successfully implemented this model whereby a small amount of equity is owned by employees and is paid as bonuses rather than as a percentage of salary.
The firm's Christian Wilson says, "it has been very inspiring to realise how important this change of structure has been – we had no idea how much of a wave we would create in the EO world".
Can ease into employee ownership
Others, such as, London and Birmingham based Gateley, have chosen to play it a little safer by introducing three different levels – a stock appreciation rights scheme for partners and directors, a Gateley Sharesave Scheme for all employees and, a CSOP (Company Share Option Plan) for associates, senior associates and directors. By doing this, the company has managed to put in place an ownership model for employees while appeasing older partners who may have been resistant to change.
Great for new law firms
It is clear that implementing employee ownership will be a considerably easier option for new businesses than it would for those which already have a hierarchy of partners and associates in place. Like Postlethwaite Solicitors, some of these may choose to wait until long standing partners have retired. New companies, however, will be perfectly placed to get onboard with what is rapidly becoming a popular model – particularly in the age of The Great Resignation.
Employee ownership could be good for your law firm
Employee ownership is very much a viable option for law firms, but many will find that it's not quite as straightforward as it may be for some other industries. The law sector has always been one which values tradition and structure – meaning that owners may have their work cut out when trying to convince stakeholders and partners to try something new.
Law firms which have been established for some time will need to carefully consider the amount of time and work which may be involved in switching models – and to be prepared for any backlash. However, as with most things, as time passes, there's every chance that this model will become more and more widespread within the legal industry – to the benefit of both the company and its employees.
Photo by Christina Morillo via Pexels.