Getting your firm reviewed by customers is extremely easy and cost effective and has the potential to improve your search rankings as well as your click through and conversion rates.
Where to set up reviews
There are a number of different services that allow your business to be reviewed. I will detail the two most popular.
Google
Set up a Google My Business account at www.google.com/business.
To prove your address, Google will then send an activation code to the address you enter on your profile. Once you have received this (it takes 1-2 weeks), your Google page is linked to your listing on the search engine and this gives your customers the opportunity to review your business.

Once the customer has left a review, it appears on the company Google page as well as in the company's local rankings.
Once someone has left a review on your Google page, you have an opportunity to respond to whoever has written it. This is a great advantage, as you are able to try and rectify any problems that have lead to a negative review.
TrustPilot
Trustpilot is a third party review site. It is different from Google in that it is solely created for reviews as opposed to being a social network.
You may use this service for free, but the non-paid service comes with many limitations.
Firstly, you are unable to respond to a customer's review unless you pay for Trust Pilot. This can lead to issues if a customer gives you a bad review.
Secondly, with a free Trustpilot account, the customer who reviews your service has to have a Trust Pilot account, which makes it more difficult to find people willing to give you a good write-up.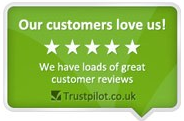 Thirdly, where the paid service allows you to share your reviews across your website, this is not available with the free service. However, if you do pay for the service, you can have this nice widget incorporated into your website.
If you pay for Trustpilot, you send them your client's details, and the company will use an email address to start asking your previous customers to review your service. You do not have to do any real work aside from giving Trust Pilot client details.
The paid Trustpilot service is fairly costly, starting at £75 per month. Although paying for it gives you all the above benefits, you're able to replicate many of the features for free in other places. There are other options, and lots of third party review sites are out there, including Yell, Yelp and Freeindex. These all use the same structure as Trustpilot – they are free for basic reviews, but you have to pay for more options.
How to get these reviews
It's one thing setting up your firm on one of these review sites, but your clients may need a little nudge to get them to comment on your services. Luckily though, the law industry is probably one of the easiest to get good reviews (as long as you're winning cases for people).
A simple way to start bringing in reviews would be a quick after-care email shortly after winning a case for a client. Something like:
Dear Client
Thanks for choosing [our firm] as your solicitors.
If you're happy with the outcome of the case, please help us out by writing a review for our services.
You can't expect all clients to write a review, but if the outcome of their case was a good one, it's likely that some will.
If this fails, you can look to offering some kind of prize draw to get clients to review you. Always include a link within your website so it's easy for a client to submit a review quickly and hassle free.
Reviews on your own site
With Google, TrustPilot and the other third party sites, the client always has to have an account to be able to write a review of your services. If you put reviews on your own site, this is not necessary. Indeed, a client could just give a testimonial via email that you can turn into a review on your site.
However, firms that do this are rare, perhaps because most viewers are intrinsically distrustful of reviews on the service provider's own site.
Incorporating your aggregate rating into your site
I've already mentioned the widget that you can insert into your site from TrustPilot, but you can also use schema markup to show your aggregate rating to users when they see your site in Google.
A Google search on "schema markup" will bring up lots of tutorials and general information on this topic, if you are not already familiar with it.
Basically, schema is an advanced on-page markup that allows search engines to better understand the information that is presented to them. You are able to add Schema to many different types of information, including recipes, organizations, places, movies and videos. This is all designed to give the user the best search experience.
You are able to add a schema to your website with the aggregate ratings of all your reviews.
For legal firms, the results would look like the following when a user finds your website on Google: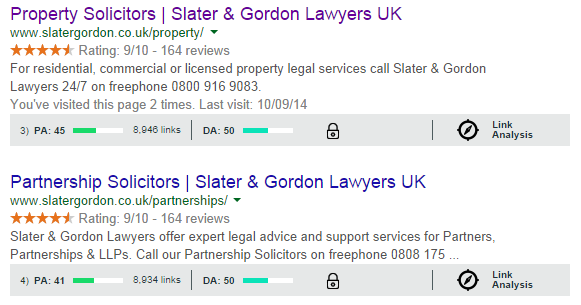 Benefits of site reviews
Reviews come with a number of benefits that can improve your website performance in different ways.
The major benefit is rankings. Having reviews on your Google+ page directly affects your local ranking.
Another Google ranking factor is a website's click through rate. If you have aggregate rating Schema across your website, your ratings will appear in a Google search. When someone does a search and sees your site with its shiny reviews ranked next to a site without them, they may well enter your site as opposed to the non-reviewed page (even if it's ranked lower).
Eventually, if so many more people are clicking on your site, Google will see that users prefer it to the site ranked above, and will change your rankings accordingly.
Reviews can also have a positive effect on your conversion rate. Internet users are savvy, and choosing a law firm is a huge commitment. When a potential client sees that 100 out of 105 of your previous clients have given your firm a glowing review, they are far more likely to trust you.
Reviews have increased in importance in the last couple of years, and as search engine technology evolves, I can only see them becoming more and more important.
Daniel Kidd is the head of search for law firm Michael Lewin Solicitors in Leeds who specialise in personal injury, stress at work, employment law and criminal injury claims.
Email danielkidd@michaellewin.co.uk. Twitter @MLSolicitors.