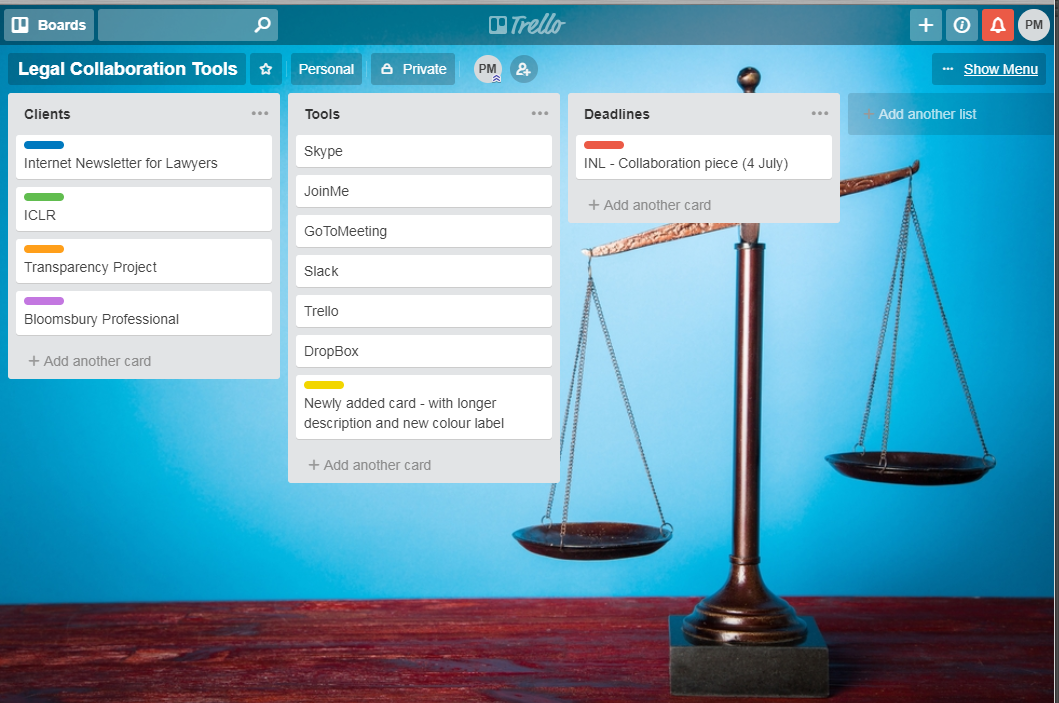 What do a family law barrister in Bristol, a law lecturer in Cardiff and a legal publisher in London have in common?
The answer is that Lucy Reed, Julie Doughty and I are collaborators – both as members and trustees of the Transparency Project and, more recently, as co-authors of a book, Transparency in the Family Courts: Publicity and Privacy in Practice (Bloomsbury Professional).
Collaborating via the internet isn't particularly new. But with the modernisation of the courts and the development of increasingly virtual ways of conducting litigation, lawyers are becoming more and more accustomed to the idea of working remotely, not only from their colleagues in different offices or at home, but also from clients and, increasingly, the courts themselves. This article looks at some of the web-based apps that can help.
Virtual meetings
The first thing one is likely to do when collaborating or working with others is to hold some sort of meeting, and if it's a remote one you will need suitable video conference software.
The generic brand for this is Skype. This was developed as a way of exploiting VoIP or Voice over Internet Protocol and has achieved market dominance. It works pretty well for small group chats; less so when a larger number of members join a call. You can use it on pretty much any internet-accessible device, but while smartphones, laptops and tablets will have built in microphone and camera, a desktop PC may require these as external accessories.
Alternatives to Skype include JoinMe (which we use at ICLR in London when holding meetings with our developers, 67 Bricks, in Oxford, and designers, Big Bang Media, in Portsmouth) and GoToMeeting (which we use for Transparency Project committee meetings – our members are too numerous and too geographically scattered for a satisfactory Skype call), both of which I can recommend.
There are a number of others, such as Blizz (by TeamViewer), Adobe Connect, Apache OpenMeetings, Google Hangouts, and Zoom VideoConferencing. For the occasional dialogue, Apple's FaceTime (currently limited to two participants) is also fine.
Although some of these are free, most of them have one or more subscription levels, the costs of which will depend on the level of service and/or number of members. Key functions to look out for, in addition to audio and video are the ability for a participant to "share" (ie display) their screen, the ability to share files with the rest of the participants and in some cases even to store content accessible via the cloud.
Plans and ideas
Next, you will need somewhere to capture and exchange ideas and documents.
I can recommend two applications, in particular, because I've used them extensively over the last couple of years in working with the designers and developers of our ICLR.3 platform: Slack and Trello.
Slack describes itself as a "collaboration hub". Its real virtue is that is provides a single place for all the members of a team to discuss the project, both via one or more general channels in which all contribute along the same thread – a bit like a conversation on Twitter – and directly with one or more other individuals via a private thread. Each member has their own channel for direct messaging, and you can set up as many general channels as you need. We find it best to set up a general thread for each different topic or project.
Of course, you could have conversations via group emails, and exchange documents as attachments, but I find it much harder to keep track of a topic through multi-sender email threads. With Slack it's easier to keep the topics tidy, find the uploaded files (there is a search facility) and keep up to date with the latest comments. You can elect to have it send you alerts whenever anything new is posted. Slack can also be used to make calls or even set up conferencing, and it can be linked to a calendar app to keep track of who is where at any given time.
Trello is another hub-like application, but its purpose is rather different. It is more of a project management tool, but you can also use it to store content and organise different streams of activity. It works by setting up a "board" to which anyone added to a team will have access. You then create "cards" which can be arranged in different columns or "lists", and which can be used to describe a particular task or element or piece of content. Each card can show instructions, comments and links, and can hold attached files. The cards can be rearranged up and down the same list or moved from one list to another. Moving the cards around is a bit like playing patience. But it is a satisfyingly graphic way of organising your work.
These are but two of hundreds of productivity apps that offer similar tools for collaboration, with different combinations of functions and features. Capterra which catalogues and reviews different types of software, has a list of them. My only reason for singling out these two is that I've used them myself and can recommend them.
Document management and editing
Most collaborations will involve co-writing at least some documents and this is where two key issues arise. First, ease of access for all those working on the same document, which might be a contract, or an opinion, or an article, or a publication. Second, version control.
The latter is something that, at least for shorter documents, can be managed by the editing software. Microsoft Word enables changes to be tracked and comments added to documents worked on by different authors, and most alternative editing applications, such as Apple's Pages, Google Docs, and Apache's Open Office Writer, will do the same. But passing the document around by email is a clumsy and unsatisfactory way of providing access to all participants, and this is where DropBox, Google Drive, Microsoft's OneDrive and similar cloud-based storage facilities (or even project management tools such as Slack or Trello) can help. What they offer is not only a convenient place to store, or keep a backup copy of, your own documents, but also a place from which to offer access to collaborators.
Access can be granted by the originator of the document to one or more others, usually by providing (or emailing) a link, which may include permissions limited to read-only, or enabling them to comment or giving full permission to edit. Access can cover a single document or an entire folder (which in turn can include sub-folders) and the relevant link can be sent by email. In the case of Google Drive, this requires the recipient to have a Google account as well (including a Gmail address to direct the link to).
Having been granted access to a document or folder, you can either open it on your browser, or in some cases use a dedicated app. Google Drive does everything via your browser (integrating most efficiently with its own browser, Chrome), but DropBox has its own app, though you can also access it via any browser. Google Docs can be edited online, but documents in Word, Pages or OpenOffice format can either be edited online (using online versions of the relevant programme) or downloaded for editing offline using the full application.
Even when downloaded, such documents can be saved and backed up online as well as locally. Thus the latest version of a document can by synchronised across all the devices from which it might be accessed. This is where something like Word or Pages, operating in conjunction with OneDrive or i-Cloud respectively, offer similar cloud functionality (including syncing) as Google Docs and Drive.
Security and data protection
For business use, all of these tools and applications need to be fully compliant with GDPR, Privacy Shield, and other legislative and regulatory data protection and confidentiality requirements.
All the products claim to meet their users' expectations in this regard, but it's worth checking each one before starting to use it. Some may not be as up to date as they should be: for example, at the time of writing, Slack was saying that it was "focused on our GDPR compliance efforts". Given that GDPR is now enforceable, one would hope they were already compliant with it. According to its Security White Paper, however, "Slack supports the latest recommended secure cipher suites to encrypt all traffic in transit, including use of TLS [Transport Layer Security] 1.2 protocols, AES [Advanced Encryption Standard] 256 encryption, and SHA2 [Secure Hash Algorithm 2] signatures, as supported by the clients."
Trello, meanwhile, states that it and related products "participate in and comply with the EU-US and Swiss-US Privacy Shield Frameworks and the Privacy Shield Principles regarding the collection, use, and retention of information about you that is transferred from the European Union or Switzerland (as applicable) to the US."
Dropbox, Skype, JoinMe and GoToMeeting all comply with similar security and end-to-end encryption standards. With constant stories in the press about data hacking and harvesting, and in the wake of the industrial kerfuffle over GDPR compliance, standards are being tightened all the time, so the best thing is to check with the company at the time when you are thinking about buying or using their applications.
Things to bear in mind:
Documents or folders can be password protected, which increases security and enhances data protection; but the data may still be stored on cloud servers outside the jurisdiction.
DropBox has stated that it will comply with government data requests; and it publishes a transparency report on the (increasing) number of times it accedes to such requests, eg by way of court orders, subpoenas, search warrants and the like. Other developers may do the same.
Security does not stop with the product itself, and most data breaches are caused by user error, such as inappropriately falling for phishing scams, and the like, leading to password protection being compromised. Ultimately, data security is only as good as the humans who are handling it.
Paul Magrath is Head of Product Development and Online Content at ICLR and a member of the Transparency Project core group. Email paul.magrath@iclr.co.uk. Twitter @maggotlaw.
Transparency in the Family Courts, by Paul Magrath, Lucy Reed and Julie Doughty, is published by Bloomsbury Professional at £65. For details and a 15% discount use the link below and quote discount code BPTFC15.