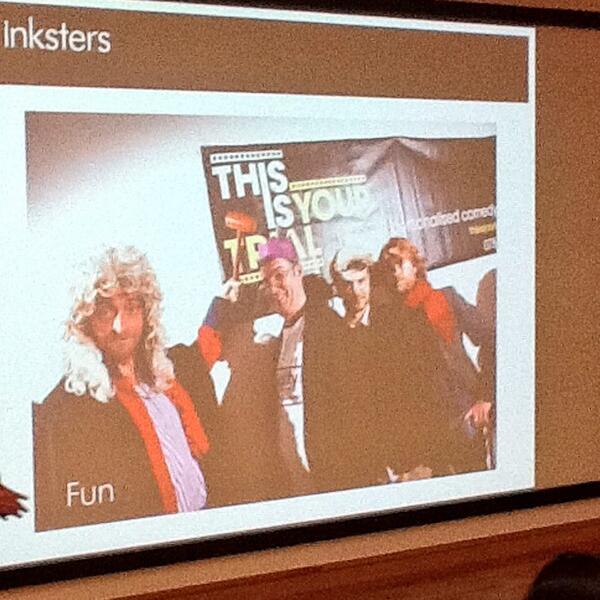 ReInvent Law London 2014 took place on 20 June. This was its third London outing. It appeared first in 2012 as Law Tech Camp and was renamed ReInvent Law for 2013. I have attended all three and gave a presentation at this year's event.
ReInvent Law is the brainchild of Daniel Katz and Renee Knake of Michigan State University College of Law and when in London is organised in partnership with the University of Westminster. Similar events have taken place in Silicon Valley, New York City and Dubai. Daniel and Renee believe lawyers can change the world but to change the world they must first change themselves. They consider it is time to ReInvent. The market for legal services is undergoing serious transition, presenting both possibility and peril. They believe four pillars of innovation will save the legal industry: Law + Tech + Design + Delivery. Cultivating these pillars is their goal and ReInvent Law London is part of that cultivation.
ReInvent Law adopts the BarCamp or UnConference style. Presenters submit proposals to talk at the conference and I assume are selected based on the proposals put forward. Thus the conference is shaped by those who want to talk at it and not by a programme designed solely by the organisers or influenced by sponsors. This is refreshing and produces some interesting talks that may not have seen the light of day at a conventional style conference. Furthermore, many of the presentations are done in six minute PechaKucha or Ignite style sessions. The presenters have to do their talks with the aid of 18 slides, each of which advances automatically after 20 seconds. This makes for concise talks and the ability to pack many into the day. Indeed there were about 40 talks at the latest Reinvent Law London. This also results in a good mix of speakers from law students to law academics to practicing lawyers to legal technology providers.
What grabbed my interest on the day? I liked the idea of Lawtoons, a planned series of cartoons on the laws of India. Comic books will illustrate laws and legal rights to make it easier to understand and fun to learn. It has successfully been crowd funded and the first comic on fundamental rights is coming soon.
There was a call from Joshua Lennon of Clio for a global technology standard for the legal profession, to improve the management of information. There was a talk by law student Siobhan Duncan on prepaid, cash back, cards to be used to pay for legal services. Ivan Rasic of LegalTrek told us what NewLaw can learn from technology startups by being lean. Reena Sengupta of RSG Consulting thought that Big Law should learn from technology companies like Apple that has loyalty based on products and services and not its people.
Improving
My talk on "Improving" was inspired by a blog post by Jon Busby who said: "Lawyers are trying to reinvent themselves into something they will never be instead of improving on what they actually are. Something valuable that is just a bit broken and well worth fixing."
The premise of my talk was that you might be able to reinvent your firm by improving it a bit at a time. I looked at examples from my own firm, Inksters.
Identity. When I set up Inksters 15 years ago I drew up my own logo with the help of my wife. 4 years ago we rebranded with the help of a designer. Now the Inksters forward pointing arrow runs through the entire organisation: from business cards, social media avatars, the reception desk to the bespoke toilet signage (I will let you ponder that one).
Environment. Improve your working environment. Make it somewhere your staff are proud of and want to work in. Inksters recently moved into a new purpose designed HQ in the heart of Glasgow. I believe there is still a place for bricks as well as clicks in the law firm of the future. A visitor to the Inksterplex said he thought he had walked into a design studio.
Web presence. Improve your web presence. Inksters own a large number of legal-related domains. Some of these are currently in use many soon will be. We now have four websites with a fifth launching very soon and four dedicated separate blogs. We ensure that the content on all of these is genuinely useful.
Social media. Improve your social media presence. We have more twitter accounts at Inksters than people. We tweet in convoy. We meet up with those we tweet with when we can. We forge relations in the traditional networking way but using Twitter as an accelerator. Through those connections many different types of business opportunities arise.
Marketing. Improve your marketing. Inksters post out paper Christmas hats rather than cards at Christmas time and recipients tweet photos of themselves wearing them. Sometimes from far flung places like the Ice Hotel in northern Sweden. This can go on for months with summer beach photos not being uncommon! The best entries win a prize.
Geographical reach. Improve your Geographical reach. Inksters have offices located throughout the remoter parts of Scotland. Back office support is provided from Glasgow using technology. Thus there is no duplication of staff in the satellite offices. Each is manned by one solicitor specialising in a particular area.
Way you work. Inksters have a serviced office and living apartment in Shetland. Think Regus offices meets Fraser Suites combined and condensed into one unit. We call it OfficeLodge. Solicitors can live and work from OfficeLodge when in Shetland. Otherwise we operate it as a separate business and let it out to other business travellers.
Pop-up law. Take law to your clients. At Inksters we do pop-up law, for example setting up a wills kiosk in a branch of Barnardo's in Glasgow or taking crofting law seminars to crofters in a village hall in North Uist. The day before and the day of ReInvent Law London we had a crofting law stand at the Royal Highland Show in Edinburgh. I flew to Edinburgh the day after ReInvent Law London to man it over the weekend.
The cloud. Improve the way you work by getting on the cloud. Inksters are completely cloud based. We have no servers in any of our offices and no software on any of our Personal Computers. They are simply a gateway via the internet to our systems stored on servers in the RISE data centre. We also use cloud based digital dictation enabling work to be created and produced anywhere.
Service – communication. Improve your service through communication. At Inksters we have a VOIP phone system. All calls to satellite office numbers are routed to Glasgow. The solicitors in the satellite offices are extensions on the phone system. Outwith normal office hours our Estate Agency calls (solicitors in Scotland are commonly also Estate Agents) are routed to a call centre.
Online payment. Improve the way you get paid. Many solicitors are just catching on to the fact that maybe they should accept payment by debit or credit card. But why not accept payment online? At Inksters we have been doing so since 2008. Clients can pay us when it suits them best – perhaps in the evening or at weekends. It will speed up your cash flow and ease your cash room administration.
Legal process engineering. Improve your efficiency through legal process engineering. At Inksters we have a dedicated legal process engineer. Their role is to map all our processes and streamline them, make them efficient and integrate them into our cloud based CMS. That will drive and create real efficiencies that are paramount in the more-for-less world we now live in.
Consultants. Improve your business model with self-employed consultants. At Inksters we provide all the back office support and technology to enable such consultants to concentrate on the law and let us take care of running the business. Some virtual firms have been established on this basis but I believe it is a model that will work best with some bricks and mortar.
Corporate social responsibility. Improve yours. Give something back to the community you work in. Last year Inksters sponsored the Scottish Ensemble to take them to Shetland to perform Seavaigers: A story about a sea journey from Dundee to Shetland. The Kudos we have received from the local community for so doing has been tremendous.
Fun. Improve the fun you have. Law and lawyers can be seen as a bit boring by some. Don't take yourself too seriously. Lighten up a bit and have some fun in your work and with your work colleagues. Last summer I was put on trial for a laugh at the Edinburgh Fringe. The charges against me were ones of high treason for having my sights on the Scottish Crown. Team Inksters had a good laugh at my expense.
Skills. Don't forget your skills as a lawyer. The latest legal app or other gizmo will never be a substitute for honing your legal skills. Keep studying the law. Better still write, blog and speak about your area of expertise. Become the go-to expert in your field. Carve a niche and excel at it. Market that fact through the web, videos and social media.
A reinvented firm
By gradual improvement in everything you do as a lawyer and in your business you may just discover that you have reinvented your law firm. You will have created a firm that people enjoy working in. A firm that clients want to instruct. A firm that is moving forward and ever adapting with the world around it.
Brian Inkster is the founder of Inksters Solicitors. He was winner of the Managing Partner/Team of the Year award at the Law Awards of Scotland 2014. He blogs on the Past, Present and Future Practice of Law at The Time Blawg.
Email brian@inksters.com. Twitter @BrianInkster.