With webmasters and site owners talking about the signals that links are sending to Google about their website, it is very important to know who is linking to you. We find that many business owners do not know how to check the links to their website and often do not even know that they can do this.
Finding out who links to your site can give you lots of information that you can work with. The information allows you to judge your successes and also to identify some problems that you need to work on, fix or avoid in the future.
In particular, you can identify:
The effects of any successful press coverage you have received
The effects of any new content you have added
New interest from a particular sector or service that may surprise you
Which are your best links (i.e. on other sites, leading to your site) in terms of gaining traffic to your site
Links have played a large part in Google's ranking algorithm for a long time. In the past (and even now) some SEOs are building a vast number of low quality links to websites in order to artificially inflate their rankings. This behaviour will land you with a Google penality or a slap from Penguin that will dramatically decrease your visibility and your traffic with it. If you're not sure what constitutes a bad link, you can take a look at one of my recent posts about how to identify bad links.
How to find out
There are a number of different tools you can use to find out about the links to your website. Most of these are paid tools, but they generally offer some limited functions for free use, and if you patch them together you can gain some useful insights. This will also help you decide if you want to spend real money doing this.
In this article, I will look at three important tools: Webmaster Tools, Ahrefs and Open Site Explorer.
Webmaster Tools
Webmaster Tools is a Google system which describes its purpose in life as "Get data, tools and diagnostics for a healthy, Google-friendly site". Before you can use it, you have to follow Google's instructions for verifying that you are indeed the owner of the site you want to investigate. Once you have done this, you can use it for a range of different tasks.
One of its many features is checking links. There are two ways of doing this. The most obvious way is not really the best available since it will only give you a list of domains that link to your website, as opposed to the specific page that includes the link.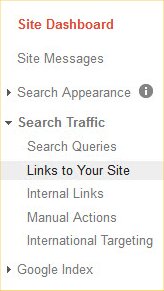 However, you can find a list of specific pages that link to your site by navigating to Search Traffic in the left hand navigation menu (see picture) and then to Links to your site.
When you get here click More >> under the Who links most section. Here you can see a list of domains that link to your website and the number of times they link to you.
If you click Download latest links, a CSV with the specific URLs that are linking to pages of your website will be downloaded. Open this in Excel and then sort your URLs alphabetically. This will make it easier to look through.
Keep an eye out for any low quality domains – they may look something like Directory1234.com or freesitelinks.com. You may also want to search through the report, visit the links and investigate yourself any that look particularly good and any that do not!
Pros: You can export the results into Excel; and you can get the full URLs linking (if you use the latest links feature).
Cons: The free listing does not provide information on anchor text, followed or no followed links, estimated authority or link destination.
Ahrefs Site Explorer
Ahrefs provides "a huge index of links, data updates every 15 minutes, a friendly interface and rich data analysis that has made Site Explorer the world's most powerful tool for checking links. The tool can show links (including new and internal), linking domains, anchors, and the best pages of a domain."
It offers some free features that can help to add some of the missing elements from Webmaster Tools. You will not be able to view a full list of your links but you will get a fairly good overview of the information which is not available from Webmaster Tools Export for free!
Ahrefs will provide you with your URL Rank and Domain Rank for free (you just enter your domain name) – these are their estimates of your "authority". You can also see an estimate of the number of backlinks you hold as well as the number of referring domains, which are very important.
As an example, I have put the BBC website into Ahrefs to show you some of the insights you can gain. You will see quite a lot about Anchor text (or Anchor Phrases) here. This is the clickable text that you will use to follow a link. This used to be a huge signal to Google about what your website does or is about. For this reason, it has been used by SEOs in the past to try to get their pages ranking highly by putting the keyword or phrase in the anchor text of a large number of links. This is now considered to be "unnatural behaviour" and a sign of low quality link building at best (and manipulating Google's rankings at worst!).
On the default overview page of Ahrefs you can scroll to see your location distribution and anchor phrases. For location you want to see a normal pattern – the country you are in, countries that speak your language and countries you serve. For anchor phrases you want to see natural, branded phrases so BBC's are looking pretty natural.
Keyword rich anchor text featuring highly can signify a problem, for example we might see popular phrases as "best news website" or "news provider" – and take note of the percentages too. The highest percentage of the same anchor text for the BBC is 7 per cent, whereas with some websites with unnatural links, you will see a large number of links with up to 30 per cent as one, keyword rich phrase. This is a bad sign!
Also check the Backlink Types, governmental and educational links are generally high authority and trusted and a very good sign that you have a high quality, natural backlink profile.
Pros: Provides an insight into anchor text and more information (for free) than that available in Webmaster Tools; can put a number on high value links; provides a Follow/no-follow distribution; in the paid version you can export all URLs.
Cons: Cannot export with free version.
Open Site Explorer
Open Site Explorer from SEO company Moz gives you three free "goes" a day and you can use this to have a look at your own site (and your competitors).
You cannot export the data but you can look through it on the page itself. This is a good tool for getting an overview as well as digging a little deeper. Try the Just Discovered Links tab to find your most recent links. These dates may not be totally reliable, but to me it seems that is the most reliable and effective tool for picking up and reporting recent links.
Other backlink checking software may offer dates, but on the whole these are poor indicators of the freshness of the links.
Pros: You can look through all links; three free "goes" a day.
Cons: You cannot export data with free version; the Overview is not as effective as the graphs available in Ahrefs.
Finally – and further information
If you do not yet have any paid software I would suggest that you gain some experience by trying out all three of these tools to gain a good insight into your backlink profile. Remember are that these tools are not always perfect, they do get things wrong and they can also take a while to find new links.
You can use some of these tools to find out about the links to your competitors' websites too. The best and most efficient way of doing this is by identifying your online competitors – they may not be who you think they are – and take a look at the suggested post below to find out whether your competitors are optimising their websites.
It can always be difficult to know what you don't know about SEO. My colleague Laura Hampton has written a post on this which you might find useful.
Abra Millar is a Digital Marketing Consultant from Hallam Internet, an award winning Digital Marketing Agency based in Nottingham, specialising in search engine optimisation (SEO), digital strategy, paid search (PPC) and email marketing.
Email abra.millar@hallaminternet.com. Twitter @AbraMillar.