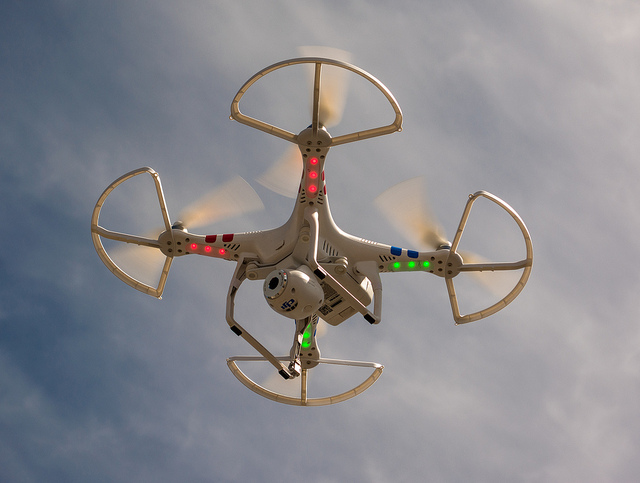 Unmanned aerial vehicles (UAVs), more commonly known as drones, generally refer to aircraft without an on-board pilot, which are controlled remotely or by computer software. Originally the preserve of the military carrying out surveillance or deploying bombs, drones have been adapted for a wide range of uses in all kinds of industries including agriculture, security and law enforcement, film production, journalism, medicine and scientific research. With the dawn of mass produced inexpensive drones, these flying cameras have now become extremely popular amongst consumers, both for purposes of photography and simply for fun; kites 2.0!
It is the sharp increase in consumer demand for drones which has really driven the legal agenda over recent months. One electronics company, Maplin Direct, sold close to 10,000 drones in 2014, even before taking account of the Christmas rush and Amazon were reportedly shifting this number each month. It is little surprise that UAVs are the current must-have gadget when you consider that one can be delivered to your door for as little as £30 (maybe soon by Amazon Drone). As more drones come into circulation, many legal questions will need to be answered.
What are the legal issues?
The use of drones by large swathes of the general public raises multiple legal issues, including public safety, liability, privacy and data protection. Their use of airspace, potential for collisions and accidents, coupled with photography and filming capabilities, mean that drones are a legal minefield. Here are some of the main concerns:
Safety and liability
In the UK the current basic rules on flying typical consumer drones (ie those weighing less than 20kg and not being used for commercial reasons which are termed "small unmanned aircraft") are set by the Civil Aviation Authority (CAA):
drones must be flown at least 50 metres away from a person, vehicle, building or structure – or 150 metres away from a congested area or large group of people, such as a sporting event or concert
drones must not be flown beyond the normal unaided "line of sight" of the person operating it (generally above 400 feet in altitude or further than 500 metres horizontally)
People must seek permission from the CAA if they wish to fly drones above this weight limit or for commercial purposes.
As the number of consumer drones increases, there may need to be more clarification of legal rights and responsibilities relating to issues of safety and liability in terms of injury to people, damage to property and even damage to the drone itself. Last year, there was a near miss between a passenger jet and a drone near Heathrow Airport, shortly after which police warned that flying unmanned drones over crowds or near landmark buildings is illegal. More recently police seized a drone being flown over Wimbledon. Meanwhile, across the Atlantic, law enforcement has had to deal with drones interfering with firefighting efforts, and there has also been a case of a drone being shot down by a neighbour in rural California.
Another quasi-legal issue affecting safety which should be considered as drone ownership mushrooms is limited radio spectrum availability.
Privacy and data protection
The majority of consumer drones are fitted with on-board video recording devices, which throws up a whole host of legal pitfalls surrounding privacy and data protection. The Information Commissioner's office (ICO) has issued specific guidance on drones, presented as part of the updated guidelines for operators of CCTV. It notes that, although "purely personal and recreational use" is unlikely to be covered by the Data Protection Act, people flying drones fitted with cameras should nevertheless consider privacy issues, particularly if the cameras are powerful and capable of zooming in on individuals.
Unsurprisingly, huge numbers of drone users upload videos of their flights to YouTube (searching for "drones" produces over 700,000 results) and share these on social media. The publication of drone videos which include identifiable individuals can further exacerbate data protection issues.
Cross-border regulation
Drones weighing up to 150kg are covered by UK laws; above that they come under European regulations. There are moves by the EU to achieve a co-ordinated approach to drone regulation in the form of the Remotely Piloted Air Systems (RPAS) Roadmap. In February of this year, the EU committee of the House of Lords broadly supported the RPAS proposals and the idea of adopting a risk-based approach to "avoid burdensome regulations for businesses". They also supported the "creation of an online database through which commercial operators could log their flight plans and data protection policies".
But even if cross-border laws are adopted which address safety and privacy concerns, the recent case of the so – called "abortion drone" which was flown across the border from Germany to Poland (where abortion is severely restricted) to deliver legally prescribed abortion pills, demonstrates how other interesting legal issues could still arise.
Further reading
BBC: Where you can and can't fly a drone
CAA: Unmanned aircraft and aircraft systems
ICO: Advice for the public on drones and privacy
SCL: Drone laws – shaping an industry
Peter Lee: Drones and the Law blog
Alex Heshmaty is a legal copywriter and journalist with a particular interest in legal technology. He runs Legal Words, a legal copywriting and marketing agency based in Bristol.
Email alex@legalwords.co.uk.
Image: It's bug season by Adam Meek on Flickr.