Here I look at the most important resources for free current awareness legal resources online, based on my web page www.venables.co.uk/aware.htm.

Current Awareness from the Inner Temple Library provides up-to-date information regarding new case law, changes in legislation and a wide variety of legal news, which Library Staff think will be of interest to lawyers practising in England and Wales. The content is selected and updated daily with a wide variety of entries on most days and is set up as a blog, so you can subscribe with RSS and get alerts every day. You can also receive "normal" email alerts, follow the blog on Twitter, get the Widget or follow on Facebook.
The Guardian Law Section is a selection from the main Guardian news and editorial content related to law – and since the Guardian follows legal developments in considerable depth (both from an individual citizen's viewpoint and from the viewpoint of society as a whole) this leads to quite a large part of the paper ending up in the law section every day. You can access previous days' news selections down the page or you can search by topic, e.g. Criminal Justice, Human Rights, Health, Prisons and Probation.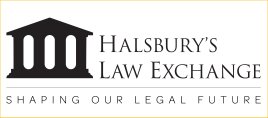 Halsbury's Law Exchange is a legal think tank, hosted by LexisNexis. As it says about itself "Through our legal white papers and current projects, it seeks to be a legal think tank in the true sense of the term; to debate the legal issues of the day without any political or commercial agenda and to influence and prompt change." There are in-depth papers on most areas of law and an opportunity to comment and debate online.
GOV.UK is the overall public-facing Government site. There is a section called Announcements which can be viewed in sequential order (most recent first) or can be selected by announcement types (press releases, news stories, speeches), by topic (Europe, Foreign Affairs, Law & Justice System) by Department (Home Office, Ministry of Justice), by date range and by world location. As well as a one-off search, you can get the results regularly by email or by RSS feed.
The Law Society site provides current and topical information about the sections and work of the Society, and legal news generally, including press releases and a series of newsletters on particular topics. The newsletter series includes Professional Update, Anti-money Laundering Update, International Update, Legal Aid Update and Junior Lawyers Update. You can sign up for all these to be sent to you on a regular basis.

Law Society Gazette provides an extensive site with a wide variety of information, news and analysis. There are a vast number of events described (in summary) and typically over 4,000 legal jobs advertised. There is information on all Law Society Publishing titles, e-books and selected key works from other legal publishers as well as the "Library Knowledge Base", the Law Society's library catalogue.
The Lawyer ("Accelerating the business of law") provides daily news as well as the full content of each week's issue. You have to register, but it is free.
Solicitors Journal is basically a printed weekly subscription publication (approx £240 per annum) but there is a considerable amount of free news and information on the site.
The Justis Blog is a major source of information. The Justis editorial team look out for developments in the courts and changes to legislation that are of particular importance to practitioners. Items cover everything from the latest case digests and legal commentaries to helpdesk articles on product-related issues. Content is well presented and you can subscribe to receive a bulletin, either weekly or monthly, of the latest items.
Weekly Notes from ICLR, provides an extensive roundup of the week's legal news written (where appropriate) in a gently humorous style.
Most of the resources described in this article are websites, which could be described as "static" sources of information. There are many other types of information available these days, however.
The Bodleian Law Library provides a very useful summary:
Alert Services – emails sent with the latest news
Table of Contents services (TOCS) – information about new issues of legal journals
RSS feeds – automatic receipt of updates according to criteria that you set in advance (see infolaw Lawfinder described below)
Blogs – online 'diaries' of information
Wikis – collections of data which can be added to or amended by anyone
Podcasts – audio updates
Social Media, with constant updates.
The infolaw Lawfinder Blogs section lists all known UK law blogs by topic, with latest headlines delivered via RSS; the Updates section lists free case law and legislation updates provided by various law publishers similarly.
The University of Bedford provides a guide to current awareness with various alerting services and practical pointers to finding legal information on the web. There is a Guide to Referencing, various subject guides, resources for researchers, a guide to newspapers, a guide to finding journals, Library terms and phrases and free law resources.
Simmons & Simmons elexica offers information on many legal sectors and on current legal developments. This is a huge site and is one of the earliest online legal resources provided by a firm of solicitors.
Finally, three topic-related blogs:

Free Movement was founded in 2007 by Colin Yeo, a barrister at Garden Court Chambers and provides updates and commentary on immigration and asylum law. It is an important resource in the UK immigration law sector, widely read by lawyers, judges and members of the public. The blog receives over 120,000 page views every month and has 5,000 email subscribers. Other members of the immigration team at Garden Court Chambers also contribute to the blog as well as guest bloggers.
UK Human Rights Blog is associated with One Crown Office Row's Human Rights Update, a database of well over 1,000 reports and commentaries on human rights dating back to 1998. Adam Wagner, the General Editor, founded the Blog in 2010, The cases are taken from domestic courts and the Strasbourg court involving human rights points that demonstrate the impact of the European Convention on domestic law and also explores the practical impact of these cases for practitioners. (See also the article by Rosalind English elsewhere in this Newsletter).
UKSC Blog comes from Matrix Chambers and the Litigation Department of Olswang LLP. The authors are solicitors and barristers specialising in litigation and with a particular interest in the work of the House of Lords and the UK Supreme Court. The introduction says "The UK Supreme Court is the UK's highest court; its judgments bind lower courts and thus shape the development of English Law. Since 1399, the Law Lords, the judges of the most senior court in the country, have sat within Parliament. In 2009, however, they moved to an independent court in the Middlesex Guildhall. To mark this historic development, this blog has been set up to provide commentary on the UK Supreme Court and its judgments." There are frequent postings of issues before the Supreme Court.
Delia Venables is joint editor of the Newsletter.  Email delia@venables.co.uk. Twitter @deliavenables.