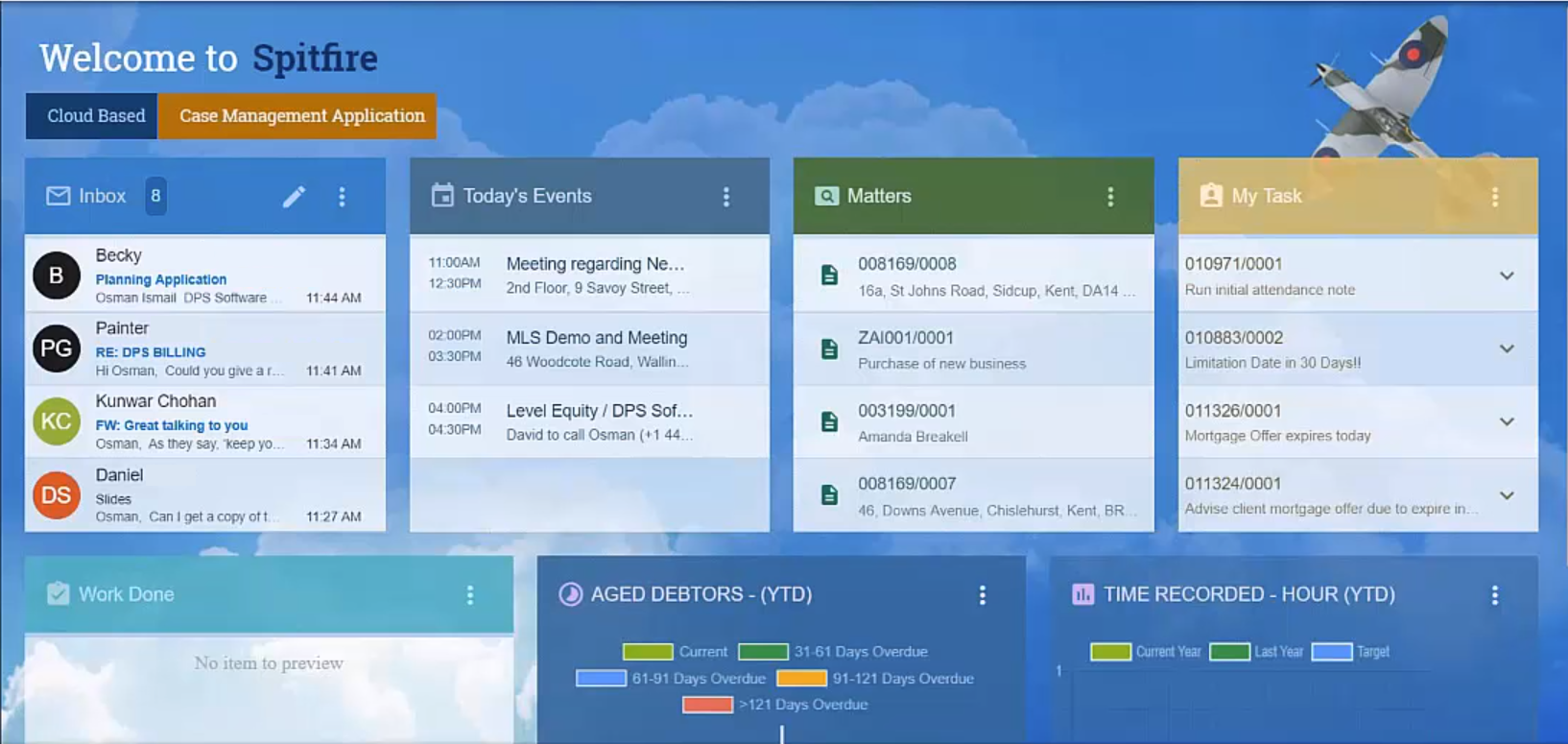 Times are changing. The way we create, share and consume information has evolved rapidly and so to has the way we work. Now, more than ever, not only is it possible, but it is vitally important that a firm has remote access to its data from a multitude of devices.
Why do we need remote access?
If you are only able to work from the office, you are putting unnecessary restrictions on yourself and your business. You may remember 'The Beast from the East', where this became a reality for many as roads became impassable, trains were severely delayed, and schools closed meaning parents had to stay at home.
Wouldn't it be perfect if, despite not being able to come to work, they could still work anyway? Well now they can. With browser-based software, such as DPS Spitfire, all they would need to do is log in online and get to work. It really is that simple.
You may already have a form of remote access, via Citrix for example but can you use that from the train? From court? Is it truly available at your fingertips?
With browser-based systems, you can work from anywhere with an internet connection. From court, from a different office, from a client's home, even from your kitchen!
Our own solution, DPS Spitfire is a wholly web-based Practice Management Solution that allows you to perform all the tasks that you currently do in your existing practice and case management systems, only quicker. You can work from anywhere with an internet connection and with an interface that looks miles better than any other system on the market.
Employee engagement
You may at this point be thinking, "does it really matter what the system looks like?" Simply put, the answer is "yes!"
Think about your employees' day-to-day work. Would they rather be doing that work on a sleek, fast system, or a slow clunky system that looks like something out of the 90s? There's no debate.
It is simply the way of the world today, where style is equally as important as substance. Your employees deserve a good system to work with without the frustrations that come with older legacy software. This improved experience will make them feel happier at work and less likely to seek new employers.
Employees will also feel happier and more motivated by the greater freedom that comes with being able to work remotely. Figures from the Trades Union Congress (TUC) show that there are now around 1,639,000 homeworkers. This is an increase of 359,000 since 2005 and 42% of the increase has taken place in the past year.
Are you losing good staff because they aren't able to work from home? Is there talent on the market that you are unable to attract because competitors offer a more desirable working environment?
Wow your clients
Competition amongst law firms is greater than ever. With advances in technology, the fight for clients only grows fiercer. That is why it is important to understand how both people and technology are changing.
Go to a restaurant nowadays and you will see countless people staring at their mobile phones. The way we seek and consume information has changed. Think about how you do your banking, how you pay bills, how you purchase goods and holidays and services. Your colleagues are used to this and so are your clients. They expect 24/7 access to their case documents and to their legal service providers.
That doesn't mean you have to be answering phone calls and emails at all hours, but you can provide your clients with access to the information they need. Your Case Management Software should now have a client portal where the client can login to view the case history, any pending dates/appointments, leave messages and even view and sign documents you have uploaded.
Adding this small level of functionality can make a big difference for your client's experience and also your own productivity.
Security and GDPR
What does security and GDPR have to do with software in a web browser you may ask.
Well what happens when a member of staff moves on? Do they still have confidential emails on their phone or laptop? Do those emails have documents regarding cases attached to them? What about the contacts stored in Outlook?
The beauty of a true web based product like Spitfire is that all the data is stored in one online location and can only be accessed and viewed from there. Blocking someone completely is a simple and pain free task.
If staff have been granted remote access via Citrix etc in the past can you be absolutely sure they aren't able to access anything now? That they haven't downloaded anything already?
With DPS Spitfire, there is no doubt. Your data is only available to those that you have granted access, so you can be certain that it won't fall into the wrong hands.
Going paper-lite
For the best part of a decade now you've been bombarded with information about how you need to go paperless. The reality though is that no office, particularly a law firm can operate completely without paper. That's why an effective case management system can help you achieve the much more realistic 'Paper-Lite'.
Any case management system will let you create client care letters, fill out forms, create bills etc and all of it will be stored electronically, however what about sending documents out? Are you still printing and posting? Why not look at a case management system that includes a client portal where you can sign documents electronically, send them to the client via the online client portal and have them signed and returned to you with a tap on the client's phone? This alone saves time and costs.
What about internal processes? Can your case management system raise an eChit? What do you do when creating a court bundle? Can it be done electronically in a matter of seconds, with a cover, indexed and paginated?
The days of filling cabinets bursting at the seams are almost gone, as paper makes way for digital technology. Let's move on the next evolution in law offices where outbound post is scarce and using the printer becomes a rare treat.
Conclusion
Using a browser-based practice management system clearly offers an array of benefits as we move forward into the digital world. Be it the freedom it grants employees with being able to work from anywhere, increased employee engagement and delighting your customers, systems like DPS Spitfire can vastly improve your practice.
No practice in this day and age could possibly thrive without an effective case management system. Using paper and creating a file structure on your computer will only lead to frustration, lack of productivity and data security issues.
The world is hurtling through a digital revolution and you need to embrace it and not be left behind.
Times are changing. Make sure that you change with it.
Adam Pembrey is the Marketing Manager at DPS and has been involved with legal software for over 8 years. Email APembrey@dpssoftware.co.uk. Twitter @AdamPembreyDPS.
Ryan Sparrow is a Marketing Executive at DPS and joined the company last year.
Contact DPS on 020 8804 1022 and follow @DPSSoftware.