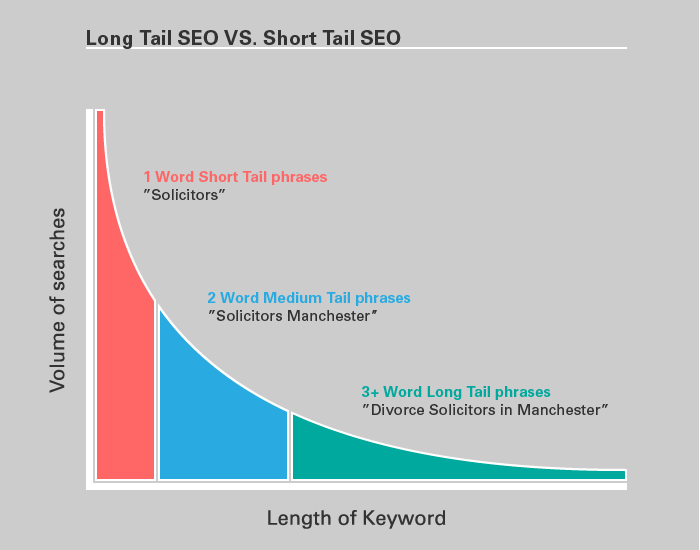 As reliance on the internet becomes ever more prevalent and Google is considered to be more of an authority on all matters than ever before, reaching the upper echelons of search engine rankings is of paramount importance to legal firms.
The competition is high but the attractive Google real estate is extremely limited so implementing a successful Search Engine Optimisation (SEO) campaign is very necessary to attract online interest. If your legal firm does not have the same level of marketing budget as the big boys then ranking well for popular key terms such as "London Solicitor" or "Compensation Specialists" may not be possible.
This is where long tail search terms come in handy as there is often not the same level of competition as the shorter, more popular key terms but they are still effective in directing the relevant traffic that may lead to enquiries.
What are long tail search terms?
Long tail search terms are, quite self-explanatorily, longer search terms that are targeted during the SEO process. For a legal firm specialising in personal injury and professional negligence such as Mellor Hargreaves, these may include searches such as "how can I claim for industrial deafness" or "road traffic compensation in Manchester". These are genuine queries that potential customers will type into Google.
Optimising your website to these terms may include using the phrases in the on-site content or even dedicating pages to the most specific terms relating to your services.
So why choose long tail search terms?
SEO is a process that can take a significant amount of time to bear fruit. Many SEO firms will quote a 6 month to 1 year wait for significant results to emerge as this is just the nature of the industry. This could be even longer if your firm is targeting the popular key terms and have no previous SEO work implemented. If you are determined to carry out SEO work for these key terms but want to see some return on investment in the meantime, then including a few long tail search terms in your SEO package could render some positive results quicker.
Legal firms with smaller budgets may not be able to afford the SEO services that would see them rank for the most popular key words but they can still drive traffic using the long tail search terms. Dedicating a small budget to popular key words may result in a service that only scratches the surface but long tail search terms could see your firm ranking high for relevant searches.
Long tail search terms also remove any ambiguity from a search. If people have taken the effort to search for "am I entitled to make a claim for medical negligence" then it is very likely that they are a legitimate, interested potential customer. A shorter keyword may have been typed by mistake using Google's auto-complete functionality or they may be searching for something completely different with a similar name.
How do I pick my long tail search terms?
Nobody knows your customers like you do so it is important that you put yourself in their shoes for just one day and consider what it is they may type into a search engine with the hope of finding your services. For example, if you consider yourself to be a leading conveyancing solicitor in Leeds, question how people may search for your service in Google.
There are a number of different online tools that you can utilise to fine tune your search term selections, helping you understand the popularity of searches.
If you are employing an SEO team to help with the campaign, discuss the long tail search terms that you believe that your customer base will be using. The search experts will then be able to determine how popular these terms and whether they are worth targeting. Between the two parties, the ideal long tail search terms can be agreed upon.
How FAQs fit seamlessly in with long tail SEO
Google's anti-spam team is constantly vigilant, trying to prevent the manipulation of their rankings by unnatural means. All on-site content and off-site content linking to your web pages must appear natural and helpful to customers necessitating quality content and relevant links.
Many long tail search terms phrased as questions can be implemented in a very natural way by setting up a FAQs page. This will seamlessly fit the search term into a prominent part of your website without appearing to be solely for search engine purposes.
Answering these FAQs clearly and effectively will also help ensure the customer journey is successful. If you are ranking high on Google and can immediately address their concerns, they will see you as a trusted and authoritative source. This makes it important to develop a comprehensive FAQ section answering all questions your customers could be expected to ask you.
If you already have a comprehensive FAQ section on your website then you can still adapt it to your long tail SEO campaign. Simple re-phrasing of questions to first person queries such as "Can I make an industrial deafness claim after leaving my job?" can correspond more accurately with people's search patterns.
From a technical perspective, when implementing the FAQ page, implement questions as H2 or H3 tags. This is a simple way of adding extra credibility to the phrases as search engines may be more inclined to give additional credence to a phrase that is a H2 or H3 header.
Off-site optimisation
Guest blogging means that you or someone on your behalf produces content for another site with a link back to your site placed in the article. This technique had been heavily utilised by SEO companies for a number of years but Google has tried to restrict that over the past couple of years. However, good quality, relevant blogs on respected sites can still have great value and may have considerable benefits for an SEO campaign and for directly driving traffic. Make sure that the content produced on behalf of your website has real world benefits for readers with relevant, useful information. There is a useful article called "How to Do Guest Blogging for Seo Purposes" on the Wikihow site here.
Incorporating your long tail search term in a prominent part of guest content (header, sub-header etc.) can render SEO benefits for that search term. If placed on a good blog and containing accurate, useful information, the content will be considered trustworthy and authoritative by readers who may follow the link to your website.
On-site optimisation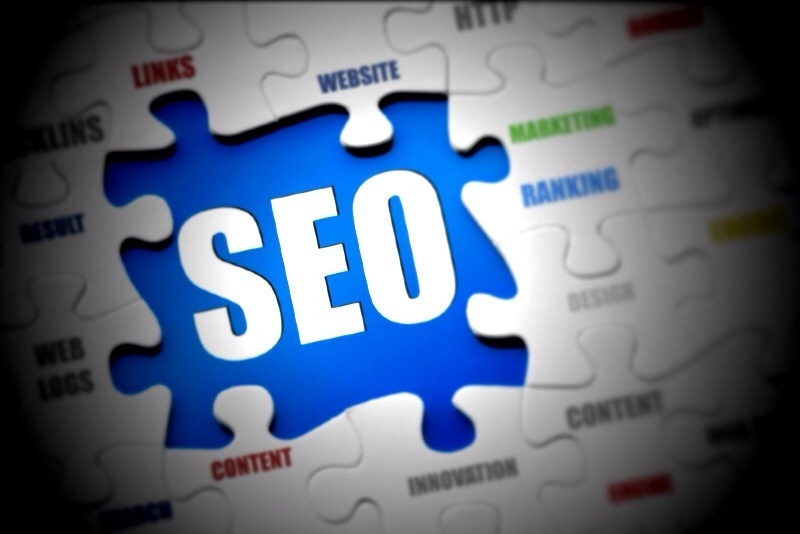 As always with SEO, it is vitally important for the website to be fully optimised to ensure that when search engines do drive customers to your site, they are welcomed with clear information on what your company does and how they can receive that service.
It is no use driving increased numbers of visitors to the website if they cannot find the information that they are looking for or do not trust the site. Ensure that the site looks professional and trustworthy, so the high ranking for the long tail search terms is not wasted.
Chris Balme is in-house Copywriter at Banc Media. He is experienced in writing for brands across a wide selection of different B2B and B2C industries and has developed a keen interest in the psychology of search engine use and patterns. Banc Media is a Search Engine Marketing company, specialising in Search Engine Optimisation (SEO) and Pay Per Click (PPC), based in Old Trafford, near Manchester and right next to the Lancashire County Cricket Club.
Email office@bancmedia.com. Twitter @bancmedia.