Creating a website for your firm or chambers demands time, patience and persistence. You have to get the right structure, with easy navigation, straightforward calls to action and compelling content.
Even when the site is fully operational, it is no time to sit back and enjoy your handiwork. You need to know if the site is doing its job properly by enticing readers in, keeping them engaged and encouraging them to make contact. How do you do this? Analyse, test and refine.
And not just once. It's a continual process of improvement because what works well one month, may not work as well the following month due to seasonal trends, legislation changes or industry developments.
Use statistics to guide you. Many tools exist to perform this task but we recommend the hugely popular application, Google Analytics.
What is Google Analytics?
Google Analytics is one of the most powerful web analytics software solutions and it's free. More than 10 million website owners are registered with Google Analytics.
Google Analytics gathers analytical information from your site so you can monitor visitor interaction such as:
how many people have visited your site and where they live
how they landed on your site (from social networks, search engines, blogs etc)
inbound traffic figures from paid-for Google AdWords campaigns
which keywords are being used to find your site
how much time they spent on your site
volumes of new or returning visitors
which web browsers and networks they used to access your site
what technology is adopted by users (desktop, tablet, smartphone)
which are your most popular web pages
where people are exiting your site.
How to set it up
Go to Google Analytics and create an account by filling in basic information about your website.
Next, get your tracking code. Go to the "Admin" tab in the top toolbar, then select "Tracking Info" and "Tracking Code". Copy the tracking ID code, access your content management system and paste it into your site's source code.
Typically, the tracking code is pasted inside the header file. As this is common for all pages, it'll be added automatically to every page on your site.
Google Analytics dashboard
Now that you're set up, you need to familiarise yourself with its features. To begin, access the "Reporting" page of Google Analytics. Again, you'll find this tab in the top toolbar.
The time period can be adjusted by using the drop-down selections in the top right hand corner of the reporting page. This defined date range will then apply to all generated reports but can be adjusted.

Menu choices
The left hand column is the place you'll find links to sections for precise information about your site's visitors, content and performance.
The menu comprises the following:
Dashboard. Provides an overview of the most important statistics for your site and can be personalised accordingly. For example, this may show the number of visits, bounce rate and some carefully chosen visitor demographics.
Shortcuts. For speedy access to your most regularly viewed reports straight from the home tab.
Intelligence Events. Monitor changes in traffic patterns through automatic alerts for deviations to your metrics daily, weekly or monthly.
Real-Time. Your web data is being updated constantly in Google Analytics, with just a couple of seconds' delay. This area allows you to monitor visitor activity as it happens so that you can analyse the people on your site right now.
Audience. The main area is audience which includes graphs, percentages and pie charts on visitors' demographics, interests, geography (language and location), technology, mobile devices and how they flowed through your site to really get to know your audience characteristics.
Acquisition. Use this section to compare traffic from search (paid or organic), referrals, email and your marketing campaigns to evaluate both the mix and quality of traffic sources.
Behaviour. Focused on your site's content, performance, searchability and interactivity, this area helps you to explore how people find and interact with your content.
Conversions. This area is not automatically activated in Google Analytics. It requires your input to get up and running. It's about setting goals such as minimum session duration, downloaded white papers, registered webinars or completed contact forms, to measure how well your site fulfils its targeted objectives.
By working your way through these areas and the sub-sections contained therein, you can understand specifics ranging from the most popular devices and browsers to top landing and exit pages.
All of Google Analytics' statistics provide valuable insights about your site and the visitors it receives. Use the data to introduce improvements to your wording, layout and imagery as well as search engine optimisation, paid search, social media or other campaigns to your advantage.
For example, if you discover that the bulk of your referrals come from Twitter on a Wednesday from posts relating to TUPE, generate more site content on this subject and promote by tweeting mid-week.
Our stats show that LinkedIn and Twitter generate the greatest number of referrals. That's why we concentrate our social media efforts on these platforms.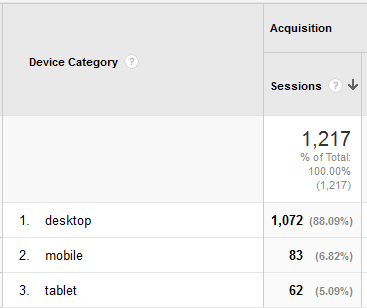 Another example could be that the majority of your visitors use smartphones to browse your site. You would need to cater for their needs by producing a mobile-friendly version optimised for these devices or, even better, create an app compatible with iOS, Android and / or Windows phones. On our site, the vast majority used desktop, not mobile or tablet devices.
Take another, more obvious example. If your home page is also your highest exit page, there's something drastically wrong with your site. You need to invest resources into spelling out your services, presenting important chambers news and offering clear points of navigation to other key areas. You don't want to lose visitors directly upon entry to your site, otherwise the effort and cost of getting them to your site in the first place has been wasted.
Custom reporting
Once you've mastered the basics, begin to feel confident with Google Analytics and have ambitions to drill down even further into the performance of your site, try custom reports because sometimes the information you want to see isn't available in standard datasets. Be adventurous and give it a try by going to "Customisation" in the top toolbar and working your way through the tabs presented. Your imagination is your only limit.
Catherine Bailey is Managing Director of Bar Marketing, specialist marketing consultants for barristers' chambers.
Email catherine.bailey@barmarketing.co.uk. Twitter @barmktg.