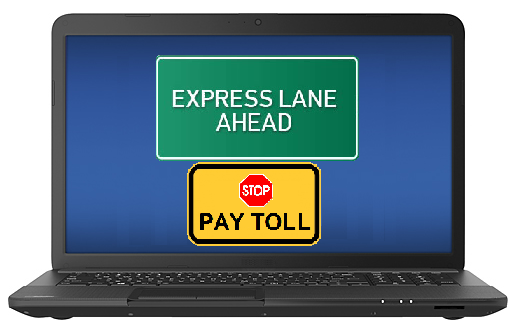 Net neutrality is the idea that all data sent across the internet should be treated equally, without the application of any discriminatory filtering based on specific criteria. To better understand the concept, it helps to view the internet as a "dumb" network of pipes merely facilitating the flow of data from one location (eg a website) to another (eg a user's laptop). Since the inception of the internet, a variety of techniques have been used for commercial or law enforcement purposes to restrict this data flow, either by preventing certain data from reaching users or conditionally slowing down the speed of data.
The Open Internet debate
The erosion of net neutrality has often attracted criticism from human rights campaigners, who are concerned that filtering internet content is essentially a form of censorship and centralised control, which runs counter to the original anarchic founding principles of the internet (eg see A Declaration of the Independence of Cyberspace by John Barlow). The so-called "Great Firewall of China" already blocks and filters internet content deemed to be politically offensive or culturally unacceptable from access by Chinese web users. Recently, Ciaran Martin, the Chief Executive of the UK's new National Cyber Security Centre announced a potential "flagship project on scaling up DNS filtering" to tackle malware, which was quickly dubbed the "Great British Firewall". However, there are certain types of internet filtering which have already been in place in the UK for many years, such as the blocking of child pornography, terrorist propaganda and other criminal material.
Perhaps more contentious than the issue of censorship – at least in the context of democratic nations – is the threat to net neutrality for the purpose of commercial gain. Earlier this year, Facebook's plans to roll out free internet access to parts of rural India was thwarted by the country's telecoms regulator, after it ruled that Zuckerberg's "Free Basics" program violated principles of net neutrality. As its name suggests, Free Basics was designed to provide restricted internet access without any charge, limited to certain websites including, unsurprisingly, Facebook. The ruling by the Telecom Regulatory Authority of India was not specifically targeted against Facebook, but more of a general enshrining of net neutrality: "No service provider shall offer or charge discriminatory tariffs for data services on the basis of content." However, India is not the only country taking steps to impose principles of net neutrality.
EU Guidelines and Brexit
Closer to home, the Body of European Regulators for Electronic Communications (BEREC) recently published its Guidelines to National Regulatory Authorities (NRAs) on the implementation of net neutrality. This followed an extensive consultation and the adoption of Regulation (EU) 2015/2120 last April, which contains provisions aimed at regulating the open access to internet by implementing net neutrality. The Regulation, part of the broader Digital Single Market (DSM) Strategy of the European Commission which aims to achieve a "single market for the digital economy" across all the EU Member States, comes into effect for all member states by the end of 2016 (existing self-regulatory schemes which were notified to the Commission before 30 April can be maintained until 31 December).
These Guidelines apply to the UK's relevant NRA – telecoms regulator Ofcom –  and, therefore, British internet service providers (ISPs) and Mobile Network Operators (MNOs) will need to take them into account. However, the looming prospect of Brexit clouds the picture and makes it more difficult for ISPs to plan for the future. Considering the implications of Brexit, telecoms lawyer Reg Dhanjal of Pinsent Masons, has noted that: "Ofcom is a member of BEREC and has been contributing to this work. However, with the Brexit vote it may in time set out its own net neutrality guidance. Those guidelines will likely be informed by the EU approach to net neutrality but could potentially contain some differences to the EU regime… A lighter touch regime in the UK could provide opportunities for telecoms and content providers." It may be that Brexit negotiations propelled by commercial exigency will seek to water down the application of net neutrality principles in the UK, but it's unlikely that UK ISPs or MNOs will be able to ignore the gist of the BEREC Guidelines.
Net neutrality – unintended effects?
One curious potential side effect of the BEREC guidelines is that David Cameron's much vaunted introduction of "opt-out" porn filtering – where ISPs automatically apply (pretty cumbersome) filters to pornographic content unless the customer opts out – could lead to ISPs being in breach of net neutrality rules. It may be possible for Ofcom to create an exception to maintain these filters, although this has yet to be clarified.
Another strange consequence of the rules is to throw doubt on the legality of "fair use" policies which are applied by most MNOs and some of the packages provided by ISPs. For example, Three's "All You Can Eat" data contracts restrict tethering (or use of a wi-fi hotspot created by your phone) and Virgin throttles data speeds on its "unlimited data" packages after 3.5GB. It stands to be seen whether these policies will be banned by net neutrality rules. Practitioners advising ISPs and MNOs should keep a close eye on any ensuing guidance from Ofcom and other NRAs across the EU which seeks to clarify the ambit of net neutrality rules in relation to fair use policies.
Further reading
BEREC: Guidelines on the Implementation by National Regulators of European Net Neutrality Rules
Official Journal of the European Union: Regulation (EU) 2015/2120
European Commission: Digital single market
Wikipedia: Net Neutrality
Alex Heshmaty is a legal copywriter and journalist with a particular interest in legal technology. He runs Legal Words, a copywriting agency in Bristol. Email alex@legalwords.co.uk. Twitter @alexheshmaty.
Image cc by Mike Licht on Flickr.