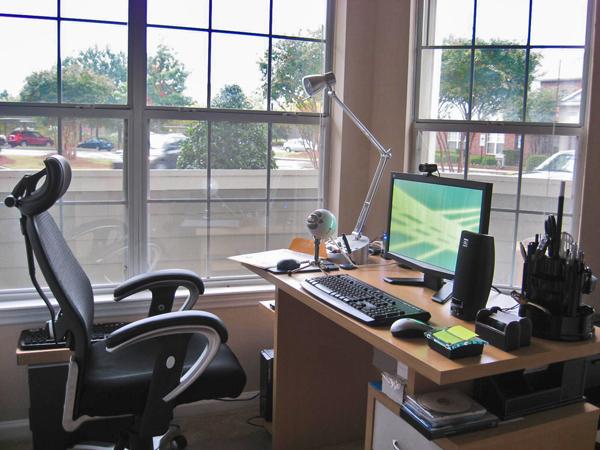 Advice from the MD of Inpractice UK on coping with the current crisis, with insights from several other PMS suppliers.
The impact of Covid-19 is being felt by all of us to varying degrees. People should work from home if they can but that may not be possible yet for everyone in your practice. As many of you will be doing this already, there is advice here to help refine that experience. Also, on the different set of challenges that everyone will face now to maintain a healthy working environment for people not used to working from home in relative isolation.
Seek advice
Firstly, make sure you have someone to talk to and work with. This situation is new for most firms, so the leaders in your practice need to be talking to someone to help – both in relation to the tech you use and mindsets. To keep in tune with the thinking of your peers in other professional practices, you can sign up for a series of webinars on Inpractice being chaired by Richard Chaplin, CEO of the Managing Partners' Forum, where leaders in legal, accountancy and similar practices candidly share their experience of coping with the impact of  Covid-19.
The two applications that virtually every firm in the country works with are: some version of the Microsoft Office suite of products – Word, Excel etc; and some practice management system (PMS). Of course, there are many other legal applications and tools, but these are the core. The PMS providers are keen to help, so talk to them in addition to any business that manages your IT systems for you or hosts them. They all recognise that we are in this together.
If you are hosted, rather than using servers located on your own premises, you are likely to be in a better position right now to provide access to your people to work from home as that facility is an integral part of your solution – but that doesn't deal entirely with challenges on the softer side of moving all your people to work from home permanently for the length of time likely to be needed now.
Shared insights
To add to our own advice we gathered recommendations from a selection of legal practice management system (PMS) suppliers (Insight Legal, DPS, Advanced Legal and Tikit for starters, so thank you to them), incorporated in the summary below.
We all have some transition to make to full home working, even here at Inpractice where we have used hosted service and home offices across the country for more than 10 years. How even we work has changed dramatically in just the last week because many of our clients are doing it too for the first time – as are your clients.
Hopefully these prompts and reminders are helpful.
Don't panic. Transitioning to cloud based or getting a new system up and running can be done relatively quickly. If you need to change provider or get a system in place, speak to someone now. Adapting quickly doesn't mean you have to be tied in for years with a provider. However, you still want to do this properly so try to ensure that what you choose now is workable and fits with how you will work in the future. This experience has the potential to be the catalyst that will result in more effective home working and online collaboration for many in the future.
Post a succinct and clear message on the home page of your website to inform clients what your firm is doing to maintain business as usual during this time. Be prepared to change it regularly to keep it up to date.
Find a quiet place in your house to work and make it your office. Be prepared to buy or tell people to take home an ergonomic chair so that you can all work comfortably. You need to be able to work there in comfort for probably the next 3 months. When using your laptop for video conferencing, raise it up to your eyeline so you look straight at people – and be aware of what is behind you.
Get some workable video conferencing up and running as soon as you possibly can so people get comfortable with it. Focus more on this as a critical first step to get up and running. This will make everything else much easier to implement.
The simplest options are probably Zoom and Skype, but there are others too of course – even Facetime, where it is possible to hold group meetings with others using iPhones, iPads etc. Zoom and Skype are easy and free to run most of the meetings you will need with anyone inside or outside your organisation "at the drop of a hat".
Zoom is free for all one-to-one meetings and for group meetings up to 40 minutes long. Your clients are likely to be using either of these too and they are very user friendly. Don't hesitate to try them and be willing to use them with clients too, who will appreciate your efforts. We are all in the same boat.
This does mean that you want your people to have fast broadband access at home to get the best quality reception and a decent laptop with a camera, microphone and speakers that work.
Wireless headsets with noise cancelling can connect by Bluetooth to both your mobile (which you can use for any of the video conference apps mentioned above) and your PC or laptop – and you can listen to music too while you work or wait for calls to come in. That helps to reduce the distractions created by others around you at home. It might be a boost for some to provide these and they will likely come in useful in the future for many at home anyway. I use (high end) Bose headphones, but there are less expensive and less obtrusive options that many may prefer.
Get a sound remote working policy in place. Make sure you know who is supplying the equipment for home use, whether it is included in your insurance, where any liabilities lie for health and safety. Your remote working policies should refer to your suite of general IT security and GDPR / privacy policies. Continuing the discussions with your team will help to refine your approach to how people can work best over time, so keep this on your agenda and work continuously on a list of improvements.
Plan your day to do what you do at work. Walk around, talk to people, make a drink, have a lunch time. It's very easy to really go over the top and check emails and work on documents for 14 hours a day simply because it's at hand and you can. Plan not to.
Increase the use of voice and video contact during a time when we will all be feeling increasingly isolated. We all need to adopt a more human type of contact during this crisis to keep spirits up. It helps to do this through regular scheduled one-to-one and group meetings.
Actively schedule "down time" group meetings online to help people relax and share each other's company and news. This is critical and can be readily bypassed. Don't let that happen.
Make sure laptops, PC's and broadband accessed through home routers are secure. It would be useful to provide a good password manager like Dashlane (which we use) or LastPass as people will otherwise be tempted – when in a hurry – to re-use passwords for ancillary apps and online services that can put them at risk. Implement two-factor authentication also wherever you can. There is of course much more to be said about protection against cyber threats but these are at least a good starting point. For more depth, implement Cyber Essentials at home.
Start using more of the right software to help you work online. Not all employees are going to be tech savvy, so you want to make it as easy as possible for them to connect, so that employees don't need to download or install anything. They want to just open their browser and log in. See the discussion of Microsoft tools below.
Plan and talk about workloads. Ensure that staff have enough work to be getting on with at home, ensure that they are capable and have the right support available. Using tools such as Microsoft Teams can be invaluable in enabling them to collaborate with colleagues on their work.
It helps to know what work your people are handling so you can help them. Use the tools available in your practice and case management system to set the agenda for regularly scheduled work-based discussions.
Communicate online now with clients – don't wait. They are in the same boat and as unsure about the next steps as you are. Share your feelings, concerns and plans. Ensure that all clients are aware of the changes being made in your firm and that there will be changes in the way you communicate as a result. Ensure all communications are through a secure channel as now is a great time for a cyber-criminal to call a client pretending to be from your firm with a change in bank details.
Tools to bundle documents can play a significant part in making it easier to share documents online with clients, counsel and colleagues. It is worth checking out what is already available from your PMS provider to do this as we tend to find that many firms are just not aware of what is possible.
Keep your thinking on business development going. Working this way will open your eyes to new opportunities to do things differently for the better in the future. At some stage – if not immediately – this will give you an opportunity to plan and begin to implement some initiatives that you have put on the back burner in the past. Steps that will now help you to bounce back when the time comes … as it will.
Introduce ways to securely share documents online for your clients to check, complete and sign electronically and they can do likewise – either through your PMS or third-party applications.
It is also time to set up fall-back arrangements with tried and tested suppliers with reliable services that give you options to outsource book-keeping, call handling and dictation.
Also, make more and better use of online applications for ID verification, AML compliance, client onboarding, conveyancing quote conversion.
Microsoft tools
If you have been following Inpractice advice over the last 18 months or so, you will be using some variation of Microsoft Office 365, with the various options outlined here. Some of these include Microsoft Teams which gives you all the video conferencing service you need (and much more).
In response to the Covid-19 outbreak, Microsoft currently offer a free 6-month trial of the full paid version of Office 365 E1, which includes Teams. If you don't have Office 365 yet or Teams, please check this out first.
However, many firms already using Office 365 use it just for Word and Excel but have not yet managed to configure, train or use much of the video conferencing and other collaboration features included in the subscription. Now you are probably going to have to dive in quickly to get that working – not just within your practice, but also to make use of all these invaluable features to communicate and collaborate with clients.
Perhaps some time out now will be the catalyst and incentive to get this working for you in the short term, but with longer term benefits for your practice too?
Office 365 includes SharePoint too, which can readily be configured to share any type of document. You can use it to share policies, procedures and other important documents if you currently can't do this through your PMS. There would be some cost to set it up but no ongoing licencing costs and universal access for everyone.
With these Microsoft tools available there is much more you can do, such as setting up a "crisis communication platform", but that's probably for another day when your people have more time to think through how best to make it work for you.
Allan Carton is Managing Director at Inpractice UK, helping legal practices tap into new business opportunities and develop new propositions, better CRM, client management and improved processes; all making better use of technology. Email acarton@inpractice.co.uk. Twitter @AllanCarton.
Image cc by jofalltrades.com on Flickr.
For free initial advice you can book a time for a 30 minute call or video conference with Inpractice online or call us on 0161 929 8355.